Scottish restaurant failure rate 'increasing'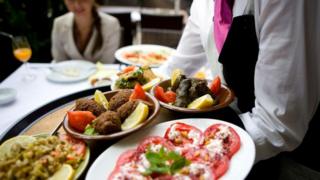 The number of restaurants in Scotland going bust has almost quadrupled over the last decade, according to a report.
Analysis of Insolvency Service data by business advisers French Duncan found that annual restaurant failures rose from 19 in 2007 to 73 in 2017.
It also found that the rate of failure was increasing, with 76 restaurants shutting their doors in the first six months of this year alone.
French Duncan cited overcapacity in the sector and rising costs for the losses.
Its report said that over the last three years 234 Scottish restaurants had gone bust - an average of one restaurant entering insolvency every five days.
Eileen Blackburn, from French Duncan, said the figures highlighted the difficulties that the restaurant sector was experiencing.
She said: "That the number of failures has almost quadrupled over the last decade is alarming but that the rate of failure is increasing is extremely worrying.
"The high street is in trouble and the dining sector is encountering unprecedented issues which are resulting in failure for a growing number of operators."
'Tip of iceberg'
She added: "Of more concern is that these figures are likely to be the tip of the iceberg as far as restaurant closures are concerned.
"Far more restaurants close without entering into a formal insolvency process so the numbers struggling on a day-to-day basis must be huge.
"The numbers closing voluntarily at a financial loss must be enormous and show just how competitive this market is."
Ms Blackburn said some Scottish operators could also be operating on a model that was "now outmoded".
She added: "To compensate, many restaurants have become slaves to the discount voucher market which can be a useful tool in the short term but can lead to a permanent lowering in revenue as savvy consumers shop around for the next deal rather than build long-term consumer loyalty."