Oil production down from Scottish waters but value up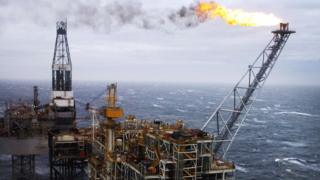 Oil and gas production from Scottish waters has fallen by 1.7% after two consecutive years of growth, according to official figures.
They show that 73.7m tonnes of oil, gas and liquid gas were produced in 2017-18, compared with 75m during the previous year.
However the value of the oil and gas grew by 18.2% to about £20bn thanks to the rising oil price.
The Scottish government said it reflected sector confidence returning.
The figures showed 81% of the UK's total production came from Scottish waters, a slight year-on-year decrease.
Capital expenditure continues to fall and stood at about £5.8bn.
'Continuing challenges'
Energy Minister Paul Wheelhouse said: "I welcome the findings in the report which show the sector has seen an 18.2% increase in sales value.
"These figures reflect the increased price of oil and gas on the global markets and show confidence is continuing to return to the sector."
He explained: "Capital investment in oil and gas fields in Scottish waters remains strong at around £6bn in financial year 2017-18, and oil production is up slightly.
"At the same time the industry faces continuing challenges, including issues around exploration, and the Scottish government will continue to do what we can to support the sector.
"However, the UK government retains most of the key policy levers affecting the offshore sector, so we will continue to argue they should bring forward measures to rebuild exploration activity and to maximise economic recovery, while also providing an immediate boost to the supply chain."
In the first half of 2018 the price of Brent Crude oil averaged more than $70 a barrel.
Earlier this week, industry body Oil and Gas UK warned in its latest economic report that platforms could have to be shut down if a deal on Brexit leads to difficulties accessing skilled workers.
The UK government said employers could continue recruiting from Europe up until 2020.