Ferguson Marine owner says cash needed to finish ferry contract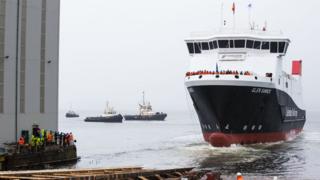 CalMac ferries faces rising costs over design changes to two new "prototype" ferries, the owner of the shipyard that is building them has said.
Jim McColl, of Ferguson Marine, said more work should have been done on the vessel's design before the contract was tendered.
The £97m order was won by Ferguson Marine in 2015.
The Scottish government owns Caledonian Marine Asset Ltd (CMAL) - the body that buys and leases ships for CalMac.
Ferguson Marine was tasked with building two boats to meet growing demand on Hebridean routes - one for the Uig-Lochmaddy-Tarbert Triangle and the other to operate between Arran and Ardrossan.
The MV Glenn Sannox - which will operate the Arran-Ardrossan route - was launched in November 2017 and had been due to enter service this summer. However, construction issues meant that was delayed until next year.
Rising costs
Ministers have previously made a £30m loan available to Ferguson Marine in Port Glasgow to help diversify the yard and help it gain new contracts.
The yard went bust in 2014, but was saved after being taken over by billionaire businessman Jim McColl.
But, speaking on BBC radio's Good Morning Scotland programme, Mr McColl said discussions with CMAL over the rising costs of the project had been "frustrating".
He said: "We have incurred significantly higher costs in the work we've had to do on these ferries, and we've been engaging with CMAL to discuss these costs.
"Maybe the best way to put it is that we've been frustrated in these discussions. We've been discussing it for over a year, and we have been funding that, so it's been using a lot of our capital. We've been funding it solely."
'Vital support'
He added: "Our view is that these have been genuine changes that have had to be made to the work we've been doing, and they're changes that ought to be incurred by the buyer.
"I believe that perhaps more design development work could have been done prior to the invitation to tender going out, rather than dealing with multiple things that are arising as we got into the build process. But we're working diligently through that."
Transport Minister Michael Matheson called further delays to the project "disappointing" when the news first emerged earlier this month.
However, he said: "While this further delay is disappointing, it is important to focus on the fact that we will have two new ships joining the fleet serving the Clyde and Hebrides network that have been built in Scotland, providing vital support to our shipbuilding industry."
Mr McColl also told the programme that Ferguson Marine had been extensively refurbished to prepare it for new Royal Navy and commercial contracts.
The yard is currently bidding to build fishing trawlers and support vessels for offshore energy.
Ferguson is also building linkspans - used for vehicles to transfer from vessels to quaysides - for Western Ferries operating at Gourock and Dunoon.