Retail leaders call for tax breaks to fight industry decline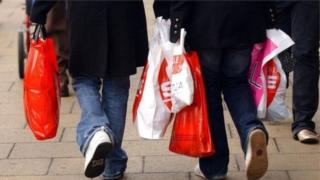 Retailers have asked the Scottish government for tax breaks to help halt a decline in the industry.
The Scottish Retail Consortium (SRC) says the rise of online shopping, increasing costs and pressure on household budgets are causing problems.
It wants ministers to rule out income tax increases, freeze business rates and scrap a proposed levy on out-of-town and online companies.
The Scottish government said it would continue to do all it could to help.
The SRC has highlighted changes which have been affecting firms in a letter sent to Finance Secretary Derek Mackay ahead of the autumn budget.
The organisation's director, David Lonsdale, said: "The retail industry is going through an unprecedented period of transition.
"Technology, changing customer behaviour, constrained household incomes, and significantly rising cost pressures have led to a perfect storm.
"It's hard to think of a tougher time to be a retailer and it's difficult to be clear about what the future of the industry will be.
"Keeping costs down is one part of the equation - another is growing the economy and encouraging consumer spending."
Lower-earning workers
He added: "With that in mind, and after significant alteration last year, we believe income tax rates should not increase in the budget.
"Furthermore, the finance secretary should bring forward his planned zero-rate income tax band which would reduce bills for lower earning workers - those most affected by inflation and rising interest rates."
Other proposals include increasing the flexible workforce development fund and the amount firms can access, as well as informing businesses on post-Brexit devolved powers.
The submission comes ahead of the publication later this year of the government's spending and taxation plans for 2019-20.
The Scottish government said it was considering the RCS's budget submission as it seeks to "deliver a balanced budget which supports public services and inclusive economic growth".
A spokeswoman added: "We are already delivering the most competitive package of rates relief in the UK, including the Small Business Bonus which to date has saved Scottish firms £1.5bn."
Scottish Conservative finance spokesman Murdo Fraser said: "For too long the SNP's high tax agenda has been hurting Scottish families and businesses.
"If we are to match the growth we're seeing in the rest of the UK, we need to start listening to voices such as the Scottish Retail Consortium, whose concern is that we are becoming uncompetitive for business within the UK."