Scottish food sales reach five year high, survey suggests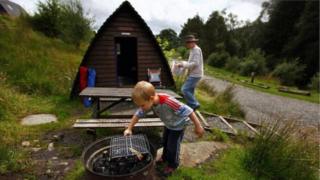 Barbecues and picnics helped boost food sales to their highest level in five years in July, according to a survey.
The SRC-KPMG Scottish Retail Sales Monitor found spending on foodstuffs was up 5.6%, compared to the same month last year.
The figure was above the three-month average of 4.9% and the 12-month average of 4.3%.
Overall high street spending increased by a more modest 1.1%, although it was also up on last year.
The three-month average is now at its highest since October 2013, at 2.2%.
David Lonsdale, director of the Scottish Retail Consortium, said: "Sales in July slipped back slightly from the previous month's stellar performance, but still saw a credible real terms rise of 1.4%.
"Food sales were particularly strong, with the highest July figures for five years. Consumers continued to buy food for picnics and barbecues, along with summer drinks.
"On a three-month basis, food sales were also stronger in Scotland than in the UK overall."
He described non-food sales as "less impressive" and said that this could be a warning to retailers, although the European Championships and the Edinburgh Festival could provide a lift to the figures next month.
Figures show total non-food sales decreased by 2.4% in July.
This is below the three-month average increase of 0.1% and in line with the 12-month average of -2.4%.
Adjusted for the estimated effect of online sales, total non-food sales decreased by 0.5%.
Paul Martin, UK head of retail at KPMG, said: "Predictably, food and drink fuelled the majority of sales growth in July, with refreshing beverages and BBQ food the items of choice.
"Growth was also seen in electricals and electronics, with fans and air-conditioning units flying off the shelves.
"July's performance provides a reminder that retailers need more than warm weather and well-timed sporting events to succeed."