RBS fails to repair reputation with Scottish customers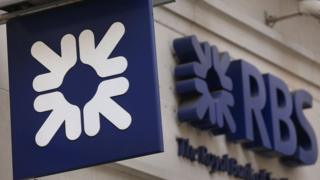 Royal Bank of Scotland has suffered a setback in its attempt to build its reputation with customers.
This decline happened during months when it was facing strong criticism for branch closures.
The measure of customer loyalty is published with company results, and it is a major target for improvement for chief executive Ross McEwan.
But latest results show customers' likelihood of recommending the bank has plummeted.
Along with other banks, an independent survey by pollster GfK asked customers: "How likely is it that you would recommend Royal Bank of Scotland to a relative, friend or colleague in the next 12 months for current account banking?"
In response, of 432 Scottish customers of RBS, the balance was heavily towards those who said they were unlikely to do so.
Six months ago the deficit for Royal Bank of Scotland was 6 percentage points.
The results published on Friday show the deficit has increased to 21 points, returning to its position this time last year.
In Ireland and Northern Ireland, the Ulster Bank brand was also negative, and worse than last year.
However, English and Welsh customers of the company's NatWest brand, which offers the same services, are significantly more positive about their bank. With more than 3,000 people questioned, subtracting the non-recommenders from the recommenders came to a positive 13 percentage point gap.
Business customers were asked a similar question, and the results look even worse for RBS in Scotland. They were 12 points in the red last year, and the most recent figures show the gap at 23 percentage points.
NatWest, which has a large share of the business banking market, saw its negative score reduced from eight to six points.
'Not where it should be'
The other measure used by the bank, asking if customers trust it to do the right thing, was significantly more positive. Taking the non-trusting from the trusting, RBS customers have had a positive rating of 27 points, and NatWest has remained at 58.
One explanation for the poor "promotion score" at Royal Bank of Scotland is the controversy around its closure of branches. Last December, it announced 62 branches would close, most of them rural. That became a major political issue, at Westminster and in local communities.
Apart from 11, which are being assessed for a reprieve at the end of this year, the other 51 are understood all to have closed by last month.
Another reason behind the difference may be that NatWest, as a brand, is not associated by its customers with Royal Bank of Scotland, which has had extensive negative media coverage for ten years.
In response to the latest scoring, RBS stated: "Our brands are our main connection with customers. Each takes a clear and differentiated position with the aim of helping us strengthen our relationship with them. For this reason we also track customer advocacy.
"We are aware that customer advocacy is not where it should be consistently enough and that we have more work to do in order to achieve our ambition."
RBS also claimed that the findings are more positive for users of its mobile app and paperless mortgage application.