Hundreds more air traffic controllers needed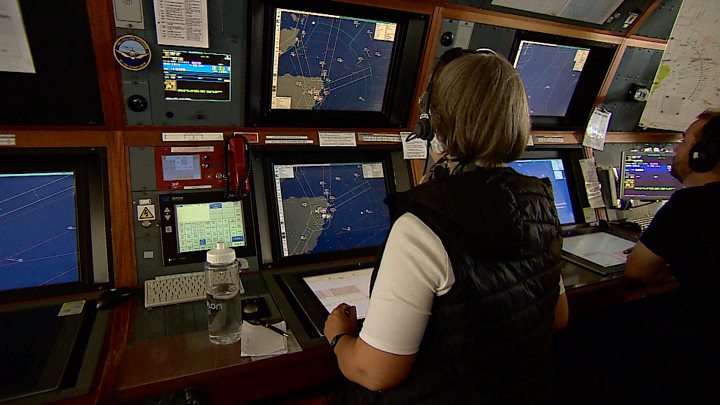 The UK's main air traffic service provider has launched a recruitment drive as Scotland's airports gear up for what could be their busiest summer on record.
National Air Traffic Services (Nats) want students who are about to receive their exam results to consider becoming air traffic controllers (ATCs).
Graduates and people "from all walks of life" are also being urged to apply.
Nats said it was responding to a predicted surge in flight numbers.
It expects that by 2030, 355 million passengers will fly to and from the UK on over 3.1 million flights - an additional 500,000 extra flights per year.
This summer alone is forecast to be the busiest on record, with daily flights across the entire UK peaking at more than 8,800 in a single day.
Nats currently has about 1,670 controllers, whose job is to manage the flow of aircraft through UK airspace, at 13 of the country's busiest airports, including Glasgow and Aberdeen.
It is looking to recruit more than 200 trainees a year to keep up with demand.
---
Have you got what it takes to become an ATC?
Nats has developed a series of "mini-games" to help people decide whether it is the kind of career that might be right for them.
They test a range of basic cognitive skills that are required by controllers - the tests include shape-tracking, a sequential memory test, reactive avoidance, and a landing game.
Click here if you want to test your skills.
---
Daryl Heaselgrave, general manager of Nats at Aberdeen Airport, said: "We are looking to recruit a good number of ATCs over the next few years and we are looking for people from all walks of life.
"We are not necessarily looking for aviation geeks - we are looking for people who want to get into a job that is exciting, demanding and lives at the centre of the airport.
"It is not necessarily about academic capability - it is about aptitude. Yes, we would like people with a good basic mathematical brain but we are also looking for decision-makers, for people who can prioritise and people who can multi-task."
---
Candidate requirements for Nats:
ATC candidates are only required to have five National 5 grades (A-C); a degree is not necessary
Trainees are paid and, when qualified, can earn a six-figure salary
On average, only one in every 200 candidates is hired
It takes around three to four years from the initial application stage to validation for successful candidates
Source: NATS
---
Elaine Dickins, 29, from Reading, has been working as a trainee at Aberdeen Airport for the past four months.
She made the move after working in oceanography.
She said: "I was looking for a change and someone suggested this. I looked into it and it seemed like exactly what I wanted so I applied.
"It has been really fun so far. There is an element of pressure but they train us very well."
Ms Dickins picked a busy location to launch her career.
Each year, 100,000 planes and helicopters take off and land at Aberdeen Airport, which boasts more air traffic controllers than London Heathrow.
From Aberdeen, aircraft take engineers out to oil and gas rigs and to the offshore wind farms in the North Sea, making it the busiest heliport in the world.