North Sea oil and fish: Independence day?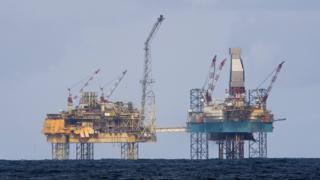 With high pressure and blue skies over the North Sea, 30 years after Piper Alpha, there's been time for calm reflection on what and who has passed.
It can also be time for a scan of the horizon, for both oil and for fisheries. Two of America's biggest oil explorers and producers have chosen Independence Day to make a partial exit from the UK.
ConocoPhillips has swapped, with BP, a 16% stake in the giant Clair field going to the British petrolheads and taking its share to 46%. That's while BP hands ConocoPhillips a stake in an Alaskan oil field.
A few hours later, Chevron announced it's putting a lot of its older UK assets up for sale, including all the assets in the central North Sea.
The rationale is that these US giants can deploy their capital more efficiently in other "basins", and much of it with a focus on North America.
ConocoPhillips says it remains "committed to maximising the value of our assets in the UK North Sea, including continued investment in our operated assets in the Central North Sea".
But that's not to say it's committed to ownership. Wood Mackenzie, the global, Edinburgh-based energy analysts, think the Clair/Alaska swap looks like a precursor to selling off everything else in UK waters. That remaining Clair stake, at 7.5%, is much bigger than anything else it has to offer.
Cracker
For BP, west of Shetland remains attractive as a frontier region of the Atlantic, with big fields, deep water skills required, new subsea technologies to deploy, and prospects still to be drilled.
Its Clair Ridge development is expected to come on-stream later this year. Wood Mackenzie says Clair South, with around 300 million barrels of reserves, could be given the $2.2bn investment green light around 2021. So production would peak around 2027.
The North Sea? It looks much less attractive to global players. It's for the smaller companies with a focus on exploiting mature reserves.
In Aberdeen, Faroe Petroleum might be interested, but its attentions are probably focused on a siege by a Norwegian firm/investor.
Ineos might also have an eye to buying, though it just announced its next vast investment plan is for more than £3bn-worth of shale gas cracker plant "on the coast of north-west Europe".
That does not mean anywhere in the UK. It does mean a plant more modern and with more processing capacity than the Ineos plants importing US shale gas to Grangemouth and in Norway.
Plenty more fish...?
What, though, of the longer-term residents of North Sea waters - the descendents of the fossils that make up all that oil and gas?
The white paper published by Michael Gove and his UK environment, farming and rural affairs department (DEFRA) is full of confidence about a bold new future, outside the Common Fisheries Policy.
During the referendum campaign, you may recall Mr Gove blamed the CFP for having sunk his father's Aberdeen business - though, on closer inspection, that story was a tad economical with the truth.
The White Paper is full of inspired intentions, and assertions that Britain will be "in the driving seat" when it comes to deciding who gets access to fishing in UK waters.
As with so much of the Brexit process, it shows a limited awareness of the push-back that can be expected from the EU27.
If Britain won't allow access to its waters for EU boats, then don't expect British boats to have any access to foreign waters. And more important, the EU has made clear that it intends to link access to waters with access to markets.
More than £1bn-worth of seafood is sold into the EU by the UK each year, and as much comes the other way. Maintaining access to EU markets is particularly important to fish processors and to the small creel-boat sector, both with strengths in Scotland.
It's noteworthy that the people commenting in the Defra press release were the big fishing interests. Not only had they got advance sight of the white paper while Scottish ministers had not, but this is taken by some as a signal that the future of fishing will look very like the recent past.
Those big fishing interests have done rather well out of the Common Fisheries Policy, given that it cleared out a lot of capacity, restored fish stocks, making the business more profitable, so that skippers are now investing. It also allowed for a quota system, creating an asset which UK skippers could sell, often to foreign firms, as they scrapped boats.
Along with historic patterns of fishing meaning allocations have been fixed for decades, that helps explain how we got to where we are now.
There's not so much sign of the white paper helping develop more coastal communities, with smaller boats, the way that Norway has chosen to do. That was always an option for Defra and for the Scottish government, had they wanted to allocate the national quota that way.
So the idea that Brexit takes Britain out of negotiating with the rest of the EU every year is one to discard over the side. There will be at least as much negotiating to be done - not once, but repeatedly.
And if the answer to all this, for the Scottish fleet, is seen as Scottish independence, the industry would understandably wish to know the terms on which Holyrood ministers would seek to re-enter the European Union.
Whether leaving the EU or leaving the UK, compromise would be required.