Havelock Europa set to go into administration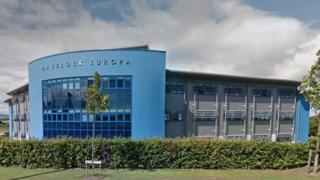 A Fife furniture company has confirmed it is preparing to go into administration, putting 320 jobs at risk.
Havelock Europa, which is based in Kirkcaldy, makes furniture and fittings for shops and public buildings.
It said it had suffered a drop in orders because of continuing pressures on the high street.
Earlier this week the company had trading in its shares suspended over concerns about its financial position.
Havelock Europa said that unless circumstances change, its board intends to appoint administrators within 10 business days.
Interested parties
"The secured creditors can, however, appoint administrators without the requirement for notice," it said.
"The directors remain in discussions with potentially interested parties with a view to protecting the position of creditors.
"There can be no guarantee, however, that such discussions will conclude satisfactorily."
Havelock Europa's customers have included Primark, Holland and Barrett, and House of Fraser.
Its difficulties in recent months have prompted interventions from Fife Council, Scottish Enterprise and the Scottish government.
Alistair Cameron, a Labour councillor in Kirkcaldy and former employee at the firm, told BBC Radio's Good Morning Scotland programme that Havelock's struggles were a major blow to the area.
He said: "Obviously they're a major employer in the town and our concerns are not just for the company but for the workforce and their families.
"We've got the next 10 days when, maybe, somebody might come in. We've just got to hope that somebody does and is able to come in and help them out."
'Huge effect'
He added: "Obviously when you talk about the high street, you can see where Havelock's problems have come from because when you see that the likes of John Lewis, Debenhams, House of Fraser... who are obviously struggling - not just recently but for the last couple of years - the last thing you're going to be doing is a shop fit and this is the problem.
"Apart from Fife Council and the NHS, we don't really have any huge employers.
"Fife is made up by many, many companies who could be individuals with just a dozen people, to a major company like Havelock who've got 300 [staff], so this does have a huge effect on us."
GMB Scotland organiser Alan Ritchie said the union had been assured that staff would be paid on time, and that it would be "business as usual" on Monday morning.
"What we are all hoping for over the next few days is that a buyer steps forward to save livelihoods," he said.
"We are convinced that the foundations of this business are good and would provide new ownership with every chance to revitalise and grow a world-class manufacturing base here in Kirkcaldy.
"The financial challenges facing the business have been significant, there's no doubt about that, but we don't believe they are insurmountable."