Lidl to create 300 new jobs in Scotland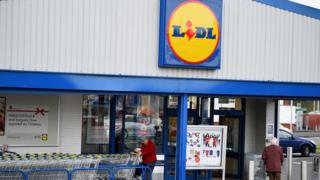 Supermarket Lidl is to create more than 300 jobs in Scotland.
The company plans to open four new stores in Paisley, Dumbarton, Giffnock and East Kilbride.
The country's first Lidl metropolitan store will open in Edinburgh in the next 18 months.
A further 100 people will be employed at Lidl's new regional distribution centre at the Eurocentral industrial estate in North Lanarkshire.
The roles include operations, maintenance, logistics and office support.
A further 250 jobs are planned in the future to take the warehouse to full capacity.
And more positions will be created in modernised and expanded stores in Glasgow, Motherwell, Aberdeen and Ayr.
Ross Millar, regional director for Scotland at Lidl UK, said he was "delighted to be in a position to create new jobs" and expand the firm's 2,200 workforce in Scotland.