Loganair posts losses of nearly £9m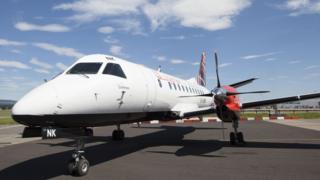 Scottish operator Loganair has reported a pre-tax loss of £8.93m for the year to March 2018.
The airline, based at Glasgow Airport, has blamed the end of its franchise agreement with Flybe.
This resulted in the airlines competing directly on six routes, including five in the Highlands and Islands.
Without the non-recurring items associated with the airline's former partner, Loganair would have recorded an underlying pre-tax profit of £2.95m.
After the break-up with Flybe, Loganair spent £2.98m re-establishing its own brand and back-office functions.
Delays in code-sharing agreements with new business partners cost a further £2.09m.
But the biggest loss has been attributed to a price war with Flybe, estimated by Loganair to have cost it £6.8m.
Chairman David Harrison said: "This year's results bring to an end 17 consecutive years in profit for Loganair, and the fact that we forecast last year that we would be loss-making in 2017/18 makes it no less painful.
"The extent of the loss is a direct result of competition on six of our eight largest routes, and from the outset we maintained that the markets on these routes were simply not big enough to sustain the level of seat capacity being introduced.
"This indeed proved to the case."
Loganair did manage to increase turnover, by 7% to £110.7m.
Passenger numbers were also up by 6.2%, to a record high for the airline of 812,541.
Managing director Jonathan Hinkles said: "We have carried out a full rebrand, repainted our aircraft in tartan livery, introduced new crew and ground staff uniform, brought in a comprehensive system of service improvements for our customers and launched a significant sales and marketing programme - a tremendous effort by the whole Loganair team.
"I'm equally pleased to be able to report that the response from our customers to these developments has been extremely positive, and I'd like to thank them for how they stood behind us during the period of competition.
"Prices on the competed routes fell to unsustainable levels, so we faced the double impact of carrying fewer customers at significantly reduced average fares. But within two months of it beginning, 70% of customers on the competed Highlands and Islands routes were flying Loganair and I'm proud that we experienced that brand loyalty."