Scottish councils to push for new tourist tax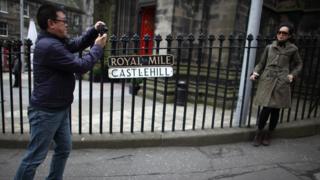 The local government organisation Cosla has backed a plan to impose a new tax on tourists.
Some councils, including Edinburgh, would like to introduce some form of levy on visitors, such as a charge on hotel bedrooms.
However, the Scottish government immediately said it had no plans to introduce such a scheme.
The small businesses body FSB has said it is "absolutely unconvinced" by the argument for a tourist tax.
Cosla argued that if councils were given the power, they would have more control over their finances.
Launching a campaign on the issue, it said a "transient visitor tax" could take a number of forms and that councils should have the right to do what was right for their own local circumstances.
Possible options could include a daily charge on each hotel bedroom or a one-off charge.
'Unpopular idea'
Business representatives have been generally hostile to the idea.
Garry Clark, the FSB's development manager for the east of Scotland, said: "Our research shows that a tax on tourism is an unpopular idea with businesses from Edinburgh to Ullapool.
"Firms are concerned about the administrative impact and are worried about the message it sends to guests. Further, there's been few promises from councils that all of the money raised from this levy will be used to boost business or tourism.
"While we understand the pressure on municipal budgets, we're absolutely unconvinced that this is the right way to go."
A Scottish government spokesperson said: "We have no plans to introduce a visitor levy on the tourism sector, which is already subject to the second highest VAT rates in Europe by the UK government.
"In partnership with Cosla, our Local Governance Review is now engaging widely on strengthening local decision-making and how public services work together to drive growth - and where we would welcome further discussion about revenue raising powers."
Cosla said the money raised could either be reinvested in services that helped tourism or go towards local services generally. It wants the decisions left to individual councils and has long argued that local authorities have too little control over their finances.
Most of their money comes from the Scottish government or business rates, which are consistent across Scotland unless there are exceptional circumstances.
The council tax makes up less than a fifth of a typical council's income and cannot be increased by more than 3%.
'Political hot potato'
Echoing language from a previous campaign by the organisation to give council's more financial powers, Cosla president Alison Evision said: "Local government is a sphere not a tier of government in Scotland.
"The devolution of powers has been the political hot potato of the last few weeks and it is right that we enter this debate in a mature, thought-through manner.
"Our ask of the Scottish government today would be - devolve to local government the powers it needs to deliver services and build the local economy; give us the chance to empower public services and create opportunities for Scotland to flourish."
Before the independence referendum, Cosla produced a report that argued local government should have a suite of financial powers to reduce its dependence on central government for cash.
It has not gained any such powers, although changes have been made to the council tax.
The council tax freeze came to an end and changes to the relationship between property bands meant that many in the most valuable homes saw their bills rise significantly.
Cosla's campaign enjoys the full support of Edinburgh and Highland councils.
City of Edinburgh Council leader Adam McVey said: "Our research demonstrates that not only is a levy unlikely to adversely affect Edinburgh's hotel trade, but that handled correctly it could help secure the ongoing sustainability and health of tourism in the city."
Highland Council leader Margaret Davidson added: "Giving local authorities the ability to raise income locally, specifically for investment in tourism, will allow areas such as Highland to provide the quality facilities and services that our visitors and tourism businesses rightly expect."