In search of the 'missing middle'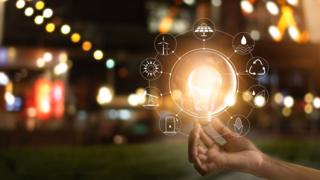 There's a familiar feel to the list of concerns about Scotland's stunted economic growth rate.
What's new is the sensation that things are picking up a bit, in the hope of at least catching the rate of UK growth but at just the time that the UK economy is slowing up.
And as Scotland's biggest customer for goods and services, that will likely slow things down again.
That much was reflected in the latest forecasts from the Fraser of Allander Institute this week. They reflect the uptick last month in the Purchasing Managers index for Scotland.
It was sufficient to stop the growth forecast for 2018 falling from the 1.2% the Allander economists had previously forecast.
But the weight of gloom from elsewhere in the economy - uncertainty about Brexit, consumer sentiment down, retail dire, business investment poor, looming trade war, probable tax increases to pay for an NHS boost - meant that the forecast for growth next year and in 2019 was lower than previously projected.
It seems the "Brexit dividend" is materialising, though not as hoped by Brexiteers or as expected by Remainers. The initial post-referendum fall in sterling did a lot to help exports, but not in the way that could be sustained with improved productivity. So the warnings of short-term calamity didn't come to anything.
Two years in, as The Economist magazine observes, Britain has gone from growth leader to laggard: the economic effect is not so much a sting as an ache.
Rusty heritage
So we have a couple of reports to tell us what might be needed to get Scotland's growth rate picking up. From Aston and Warwick business schools, together comprising the Enterprise Research Centre, their annual surveying of Small and Medium-scale Enterprises (SMEs) returns to a long-standing problem of a low business birth rate.
To that, it adds detail to the next stage of the problem. Among those businesses that are born, too few of them grow quickly.
The explanation I've heard most often - and it's sounded plausible - is that post-industrial Scots had become too attached to paid employment-for-life, much of it working for the state, that we have been slow to adopt an entrepreneurial culture.
Plenty of effort has been put into turning that around. Tech Nation, the organisation that champions the digital technology sector, is conferring in Glasgow on Thursday, and celebrating the flair to be found also in Edinburgh and Dundee, with an 8% rise in jobs in one year, to nearly £4bn value and 48,000 Scottish jobs.
However, the Enterprise Research Centre offers some evidence that a rusty industrial heritage and dependence on the state doesn't look so much like the reason. It found Northern Ireland, which shares both of these attributes, has some of the UK's strongest start-up rates and growth rates for these start-up firms.
Northern Ireland had 11% SME productivity growth between 2014 and 2017. Belfast was best city region. Scotland and Wales trailed, both on 7.4%.
The weakest region for SME productivity was north-east Scotland, for reasons almost certainly best explained by the price of Brent crude oil. The Highlands and Islands was third lowest region.
But overall, the map of Scotland shows it trailing at this stuff. So when the Holyrood business minister, Jamie Hepburn, boasted last week that "our investment per head on economic development dwarfs that of the UK government while we are investing a record £2.4bn in enterprise and skills, £4bn in infrastructure and £600m in broadband and delivering the most competitive package of rates relief in the UK, including the Small Business Bonus"... the question must surely be: 'so, minister... what have you got to show for it?'
Patchwork
To put it another way, what's being done about it? Well, our MSPs have been asking that question of various witnesses, and on Thursday, they published their answers.
They won't be widely accused of originality, but they have some interesting emphases and priorities.
Regional imbalance, for instance, occasionally gets some lip service, but inequality remains wide. MSPs on the economy, jobs and fair work committee say it's vital to tackle that.
The problem was highlighted this week with the siting of a £56m research lab near Glasgow Airport, when Ayrshire was desperate to attract it - its councillors angrily denouncing ministers (of two governments) for failing to intervene and to direct jobs to the places they can have most impact.
Ayrshire has cause for special concerns. The north and west have Highlands and Islands Enterprise. There is soon to be a South of Scotland economic development agency. All Scotland's cities are getting City-Region Deals, with joint funding from Westminster and Holyrood. It's a patchwork that risks leaving behind some areas, and notably Ayrshire.
"Fear of height"
MSPs underline the potential for linking women entrepreneurs more effectively to capital, citing the gap between growth as it is, and growth as it could be if female business growth ambition is fully unleashed.
The committee highlights the case for apprenticeship training, or something similar, to be made available to those in older age brackets, facing upheaval in their work sector, and in need of job transitions, in-work training and re-spilling.
But it's the growth of small businesses that bring some of the most specific recommendations, and sharp, challenging prods at Scottish government assumptions that it's doing what it can.
Maybe that oft-cited Small Business Bonus Scheme, taking many smaller firms out of the business rates net, isn't enough of an answer. Brexit may be the greatest risk to the economic outlook, according to Fraser of Allander, "but Brexit cannot be used as an excuse for all our economic challenges".
Scottish Enterprise, the development agency which nine years ago reoriented towards helping companies with high growth potential, may not be sufficiently tuned in to the point at which small businesses could be scaling up to medium-sized. At present, they're not eligible for Scottish Enterprise support.
This is described as the "missing middle". The MSP report borrows the observation that there is a "fear of height" from some who could be growing their businesses but either can't or won't shift up a gear or two to locate the export market, the capital, the drive or the ambition.
Some have identified this as the bit of the German economy, the Mittelstand - medium-scale, stable family firms - that purrs along with precision Teutonic tuning, not in a rush to grow but with no intention of selling up either.
MSPs ask why companies in Scotland seem to be sold before they scale up. That can bring investment into the country, "however, it can also result in the loss of entrepreneurial role models and experienced people to manage larger scale businesses based in Scotland".
How many of those high-growth Scottish Enterprise-mentored companies have been sold off, the economy committee wants to know? And how much of the benefit from that process then accrues to the Scottish economy?
That's probably hard to count up. The answer may be even harder to admit.