'Fear of heights' holds back Scottish businesses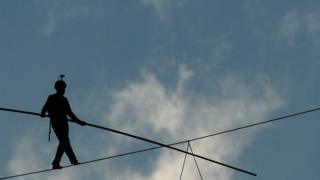 Smaller companies in Scotland have a "fear of heights" which prevents them growing, a committee of MSPs has said.
The parliament's Economy, Jobs and Fair Work Committee said Scotland's strategy for growth should be reviewed as a matter of urgency.
The Holyrood report coincides with a study by the Enterprise Research Centre (ERC) on a similar theme.
It indicates small and medium-size businesses in Scotland are growing more slowly than those elsewhere in the UK.
The MSPs said the Scottish economy is facing "considerable challenges" - including the potential consequences of Brexit.
More ambition
Committee convener Gordon Lindhurst said: "Economic growth in Scotland over the last 10 years is significantly below Scottish government targets and there is no doubt that the Scottish economy is facing a challenging set of circumstances.
"This report has sought to highlight some of these challenges whilst also recognising that there are opportunities for growth.
"We have a resilient labour market and a strong business community, but we need to encourage more entrepreneurship as well as ambition within existing businesses in order to strengthen productivity."
He added: "We found some companies had a 'fear of heights' - lacking confidence to scale-up and grow."
The committee's recommendations included:
There is a need for a consistent, commonly held and settled definition of inclusive growth.
The economic potential of regions across Scotland must be fully recognised, reducing the gap between the low-performing and high-performing urban and rural areas.
More should be done to support women in business to access funding and advice.
A Scottish government spokesman said: "The Scottish government is focussed on growing the Scottish economy, which is why the 2018-19 Budget delivered an increase of 64% in the Economy, Jobs and Fair Work budget as part of our investment of almost £2.4bn in enterprise and skills, and investing in the National Manufacturing Institute and Scottish National Investment Bank.
"Scotland continues to have the most competitive business rates package in the UK.
"The Scottish government welcomes the report into the performance of the Scottish economy and will reply to the recommendations in due course."
Brexit shock
The ERC report found Scotland had a relatively low business start-up rate in UK terms, as well as slower growth for businesses already trading.
Across the UK, it said areas with lower enterprise rates could be more vulnerable to economic shock from Brexit.
ERC deputy director Prof Mark Hart said: ""The challenge now for policymakers is to learn the lessons of what's working at local level so that we spread best practice right across the country.
"This is especially important as the UK prepares for Brexit to help mitigate any shock to local economies."