Scottish growth 'outpacing UK as a whole'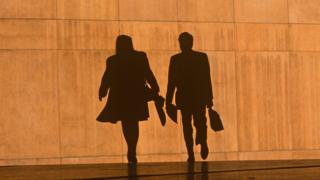 Research by Royal Bank of Scotland indicates the Scottish economy is growing faster than the UK as a whole.
The bank's PMI report for May records the fastest pace of growth in Scotland's private sector since July 2017.
It also found the sharpest expansion in order book volumes for 46 months.
RBS chief economist Sebastian Burnside said the service sector was "leading the charge" but a further boost could come from an improving oil price.
The seasonally-adjusted PMI for May was 53.7, up from 52.6 the previous month.
A figure above 50 indicates growth in the economy.
Both service and manufacturing businesses were reporting greater business activity.
Job creation
Extra staff have been recruited to cope with the extra work. Job creation was found to be at a 41-month high.
Profit margins have remained tight with increasing energy prices, food and labour costs.
Mr Burnside said: "The service sector is leading the charge at the moment but the resurgent oil price should help boost engineering activity in the north east too.
"For those not in the oil and gas supply chain, rising energy and transport costs look likely to squeeze margins over the second half of the year but a growing market should help make that an easier pill to swallow."
RBS Scotland board chairman Malcolm Buchanan added: "Positive business conditions were underpinned by healthy inflows of new work, encouraging firms to raise employment to the sharpest extent since December 2014.
"Increased staff hiring added to pressure on operating costs, however, as input prices continued to increase at a steep rate."