Jobs threatened at property firm CoStar's Glasgow base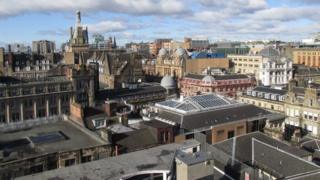 A commercial property information firm has revealed plans to move its research unit out of Glasgow, putting dozens of jobs at risk.
CoStar said it had started a redundancy consultation process with staff over proposals to transfer its research function to London.
It is understood that up to 70 jobs could be lost.
CoStar said an unspecified number of staff would remain at its Glasgow offices.
A spokesman said: "CoStar is here to stay in Scotland.
"With a loyal and committed customer base and thriving commercial property market, Scotland has been and remains an important country for us.
"We are committed to continue to deliver high quality services to our Scottish clients with a permanent staff based in Scotland.
"We are considering a proposal to move our research function to our London office and we have started a consultation process with our Glasgow-based research team.
"At this stage no final decision has been made."
CoStar is part of the Washington DC-based CoStar Group, which provides information, analytics and marketing services to commercial property firms.