Standard Life Aberdeen to return £1.75bn to shareholders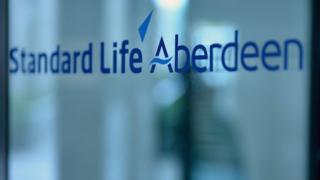 More than a million shareholders in Standard Life Aberdeen are due for a windfall pay-out of £1bn.
A further £750m is to be spent on buying back shares, which has the effect of raising the share price, as a further benefit to shareholders.
The proposal was put forward by the Edinburgh-based financial giant, on the day of its annual general meeting.
A decision on it will be made on 25 June at a further meeting of shareholders.
The pay-out plan is to distribute most of the proceeds from selling the company's insurance division to Phoenix Group.
That was announced in February, and it is to be decided at the meeting next month. It involves about 3,000 staff in Edinburgh transferring to Phoenix.
The deal is worth £3.24bn, of which £2.3bn billion is being paid in cash, and the remainder is through a 20% Phoenix Group stake for Standard Life Aberdeen.
'Capital light investment company'
The Edinburgh company has an unusually high number of retail investors, as a result of Standard Life being de-mutualised in 2006. That handed shares to its customers, and there are now 1.2 million people who continue to own some.
Of the £1.75bn pay-out, £1bn is to be handed out in non-voting B shares, which the company will then redeem for cash.
The £750m being spent on share buy-backs has become a common, and increasingly controversial way of rewarding shareholders when companies are carrying more cash than they need.
It leads directly to a reduced number of shares when dividends are distributed, so the share price can be expected to rise.
One of the reasons Standard Life Aberdeen can give away so much capital is that divesting itself of the investment division reduces the amount of capital it needs to carry.
Sir Gerry Grimstone, the company's chairman, said "The last year has been a period of significant change for Standard Life Aberdeen with the proposed sale of the UK and European insurance businesses completing our transformation to a capital light investment company.
"We are continuing to focus on harnessing the breadth and depth in our investment capabilities to deliver cost effective solutions to meet the needs of our clients and customers across multiple channels and geographies."