Scottish retailers see sales fall by 3.4% in April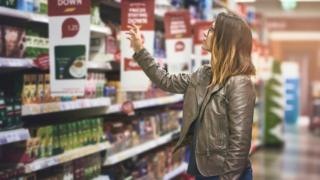 Retailers struggled on Scotland's high streets in April as non-food sales slid to their worst monthly performance in six years.
The SRC-KPMG retail sales monitor found total sales fell year-on-year by 3.4%.
Non-food sales declined by 5.5% - the worst performance since April 2012 - while food sales were down by 0.8%.
Experts said the figures had been "negatively distorted" by the timing of Easter, which fell in March this year. Last year it was in April.
Earlier this week, the British Retail Consortium and Springboard said poor weather and a squeeze on spending caused a slide in the number of people visiting shops in the UK last month.
Ewan MacDonald-Russell, from the Scottish Retail Consortium, said retailers would be "feeling decidedly queasy" over the latest sales monitor figures.
He said: "Granted April was distorted but it was the toughest month since April 2013 for the industry with a real-terms fall of 2.4%, with shoppers cutting back on both food and non-food purchases.
"Of particular concern are the non-food figures, which were the worst single-month performance in six years."
He added: "Food sales were quite resilient, especially since Easter fell in April last year.
"It's apparent consumers continue to prioritise grocery shopping over more discretionary purchases, and there is still some food price inflation there.
"Non-food sales continue to struggle, although it was a better month for fashion sales."
Craig Cavin, head of retail in Scotland for KPMG, said retailers "continued to struggle" in April.
However, he added that the Royal wedding and the football World Cup would "offer retailers the chance to recover", while the Glasgow 2018 European Championships and the Open golf championship at Carnoustie were likely to increase footfall on the high streets.