CYBG shares fall as PPI provisions hit first-half results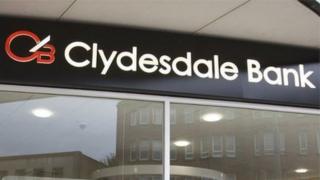 The owner of Clydesdale and Yorkshire banks has reported half-year losses of £95m after taking a hit over the mis-selling of payment protection insurance (PPI).
CYBG took a £202m pre-tax charge on its balance sheet following a surge in PPI claims in the six months to 31 March.
Underlying pre-tax profits for the period were up by 28% to £158m.
Shares in CYBG - which recently made a takeover approach for Virgin Money, were down by more than 5% at lunchtime.
The banking group has so far set aside almost £2.5bn for PPI claims.
CYBG said the rise in underlying half-year profits had been driven in part by its customer growth strategy and a reduced cost base.
However, the group cautioned that it expected trading conditions to "remain challenging", with slowing consumer spending and borrowing and a competitive mortgage market.
It said: "Spending has slowed and businesses have been holding back investment, which has had some impact on demand, but with credit conditions remaining benign.
"In the mortgage market, the economic uncertainty has reduced customer demand, while competition has remained intense and this has resulted in a challenging pricing environment."
In a separate development, CYBG announced plans for a new head office in Glasgow.
It has signed a lease on office space which will be built on Bothwell Street within the next few years.
The group said the move would bring employees currently located across its three main sites in the city - including its existing head office in St Vincent Place - under one roof.
CYBG chief executive David Duffy said: "Glasgow is the historical home of Clydesdale Bank, which is why I am delighted to announce our plans to continue to operate in the city for many years to come.
"Glasgow has a vibrant business community and a thriving financial services community, which we enjoy playing an active part in and there is no question about the benefits having all our city centre employees in one central location, in the heart of the financial district."