Scottish unemployment falls by 6,000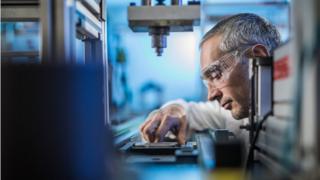 Unemployment in Scotland fell by 6,000 between January and March to 118,000, according to official figures.
The jobless rate now stands at 4.3%, which is slightly above the UK figure of 4.2%.
The number of people in work aged 16 and over in Scotland fell by 2,000 to 2.63 million.
Data from the Office for National Statistics also showed that Scotland's employment rate for people of working age rose slightly to 74.7%.
Scotland's Employability Minister Jamie Hepburn said: "The rise in the employment rate is welcome news and shows that despite the challenging economic conditions facing us as a result of Brexit, our economy and jobs market remains strong.
"Once more, we continue to outperform the UK on employment and unemployment rates for young people, with 55.6% of young people in employment in Scotland compared to 54.1% of young people in the UK."
The UK government's Scottish Secretary David Mundell said the new data showed Scotland's employment and unemployment rates were weaker than the UK's.
He added: "Instead of constitutional nitpicking, the Scottish government should focus its energies on using the considerable powers it has to strengthen Scotland's economy and boost productivity."
'Relatively robust'
Dr Stuart McIntyre, from the Fraser of Allander economic institute, said the latest figures illustrated that the Scottish labour market continued to remain "relatively robust", with high employment and low unemployment.
He added: "As always, headline labour market data give us a snapshot of the health of the labour market, but growth remains weak in the Scottish economy, and the latest productivity data released last week showed that labour productivity fell 1.9% in real terms in 2017.
"This does not bode particularly well for growth in take-home pay."
Meanwhile, the latest ONS data showed wages rose in the UK at an annual rate of 2.9% (excluding bonuses) in the three months to March - faster than inflation for the first time in more than a year.
Over the same three-month period, the inflation rate was 2.7%.