PMI: Scottish business output at six-month high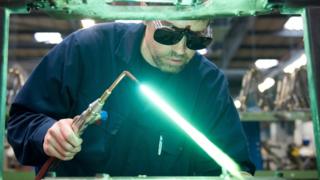 Scotland's private sector has reported its strongest rate of expansion since last October.
The latest IHS Markit Scotland PMI found that April's improvement was supported by a "solid inflow" of new business and stronger employment gains.
It attributed the upturn to an improving service sector, as manufacturing production fell for a third straight month.
However, it also signalled sharper rises in input costs and output prices.
The PMI, which measures monthly changes in combined manufacturing and services output, recorded a figure of 52.6 in April, up from 50.8 in March.
Any figure above 50 suggests expansion.
The survey of purchasing managers suggested new orders rose solidly in April, in part because of successful tendering for new business.
Service providers observed a "noticeably stronger" rise in orders than their manufacturing counterparts.
To accommodate greater demand, both services and goods-producing businesses reported recruiting additional staff in April, albeit at a moderate level.
The report also suggested that private sector firms faced substantially higher operating expenses last month.
According to anecdotal evidence, food, fuel and labour costs all increased.
Meanwhile, average selling charges were raised during April, with some panellists suggesting that "robust demand conditions" had enabled them to share part of the increased cost burdens with clients.
Firms retained a firmly positive outlook towards future output. New product launches, expansions into new markets and greater employment were cited as reasons to be confident.