RBS boss tells MPs branch closures 'difficult' but necessary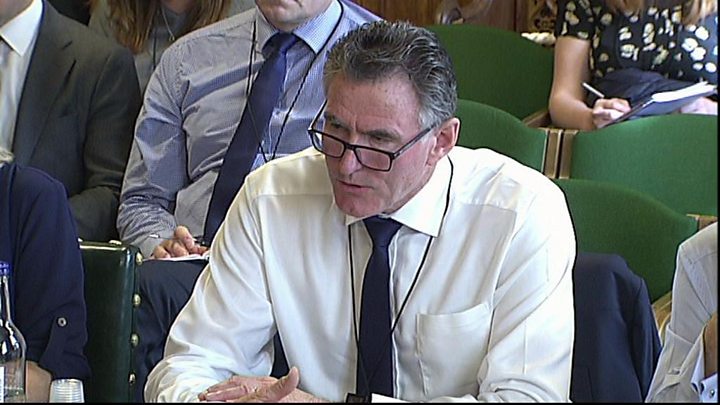 RBS chief executive Ross McEwan has told MPs he recognised that customers were angry about branch closures but they were commercially necessary.
He appeared before Westminster's Scottish Affairs Committee to explain why the bank was closing 62 branches.
The committee's chairman, SNP MP Pete Wishart, said RBS had suffered a loss of reputation because of its plans.
Mr McEwan responded by saying that change was difficult and no closures were "taken lightly".
He added that after this phase of branch reduction, that part of the business would not be looked at again until 2020.
Mr McEwan said: "My view is what we have done here with the package of different ways of operating is the best way going forward, that we can keep those services going to our customers as well as moving away from physical distribution when it is just not being used."
He added: "Let's be clear, when we look at our customer behaviour the evidence is stark.
"Branch use has fallen dramatically - the great majority of our customers want to bank when it suits them and at all hours.
"They aren't using a branch as their first point of call now at all. We have to respond to changing trends and we have to invest in a range of services to give customers what they want and what they expect."
RBS in Scotland
What are the key numbers?
1,700,000
Personal customers
120,000
Business customers
94 Branches

440 Mobile banking stops

1,400 Post Office partnerships
PA
The RBS panel which gave evidence to the committee was asked about its decision to reprieve 10 of the 62 branches under threat.
MPs were informed that eight were classified as the "last branch in town", and were located more than nine miles from the nearest RBS bank.
The Melrose and Kyle branches were also included, although neither fell within the bank's criteria for remaining open.
RBS, which is majority-owned by the taxpayer, said that in the Melrose case the reduction in banking services in the south of the Scotland was recognised, and in the Kyle case the mobile banking van was located in the village.
Where are the 10? Biggar, Beauly, Castlebay on Barra, Comrie, Douglas in South Lanarkshire, Gretna, Inveraray, Melrose, Kyle of Lochalsh, and Tongue.
It was confirmed to the committee that the future of the 10 branches would be independently reviewed between June and August, but the final decision would be made by the bank itself.
Mr McEwan said: "We will absolutely take the review comments seriously and my view is if they come back and say, for example, 'all 10 should stay open', we will leave all those 10 open."
He said that if the review said a smaller number should stay open, they would also accept that recommendation.
Asked how many of the 10 he anticipated would be open beyond the start of next year, he said: "I would like to see the review, and I will wait and see that before I make a comment on that."
Mr McEwan made it clear that no other branches would be added to that review.
'Customers love our app'
Despite criticism that it could leave some communities without any banking facilities, Mr McEwan has defended the branch closure plans, saying the moves were in response to customer choices and also said mobile banks could play a greater role.
When asked by committee chairman Mr Wishart if he recognised the anger of customers in Scotland, Mr McEwan said: "I do recognise that customers are very disappointed that their local branch is closing."
Mr McEwan added that "our most loved channel is our app".
RBS is not the only bank to close branches in Scotland, but its plans are the most high-profile.
Speaking after the meeting, SNP MP Deidre Brock said: "RBS had many questions to answer and it was disappointing that they failed in so many respects. "This is a bank that now looks purely interested in maximising profits and losing its community responsibilities."
Conservative MP John Lamont described the evidence given as "pathetic", adding: "The comments by Ross McEwan and his associates showed a complete lack of understanding about the impact losing a bank will have on rural communities.
"Despite the bank's warm words, the reality on the ground is somewhat different and harsher for communities who are losing bank branches and mobile banking services.
Labour MP Ged Killen said: "The answers given by Mr McEwan to the committee this morning were vague when we wanted specifics and focused on specifics when we asked for the bigger picture."