Momentum for marine power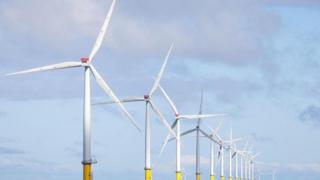 Anstruther was rarely noted for its use of Gaelic, but within five years - on a reasonably fine day - the village in the East Neuk of Fife will have a whole lot of Neart Nan Gaoithe on the horizon.
To Gaelic speakers, the name means "power of the wind". For the phonetic, it's something like "hee-irsht na goo-iya". In the industry, it's known more simply as NNG.
As little as 10 miles off the Fife coast, a vast array of turbines will have the capacity to power all the homes in a city the size of Edinburgh.
The project took a significant step forward this week, with the sale of the project by its developer.
Mainstream Energy, based in Dublin, had been reported as being interested in keeping a stake rather than handing it all over.
It might have been persuaded to hand over the whole project by the fact that EDF Renewables, a French company, was willing to pay somewhere north of £440m (500m euros).
That doesn't buy them any kit at all. No wind turbines, no cabling, no sub-station. It buys them a plan, and crucially, the plan is ready to roll. All it needs now is at least £1.8bn, and, it is claimed, a team of around 2,000 in each of the five years of construction.
Generating cash
This tells us a lot about the nature of the renewables energy industry. There's a lot of know-how required to steer a route through the regulation. There's risk, too, that obstacles, including bad luck, will bring the project to a halt.
A small developer can focus on the planning consents, the intricacies and frustrations of government regulation and auctioning of subsidies, and taking on legal challenges thrown down by environmental campaigners.
The subsidy regime has changed significantly over recent years.
NNG won the right to sell power to the grid at a minimum "strike price". If the market price for energy goes below the price at which Meanstream won the auction, a subsidy will make up the difference. That subsidy comes from one of the surcharges on our electricity bills.
In this case, Mainstream Energy is one of the companies that builds the project and makes the case for a wind farm proposal. But a small developer does not have access to the funding stream necessary. A company like EDF can provide that through its cash generation and its borrowing clout.
Mature onshore
A few points about this: while there is expertise in wind power development in Scotland, and there are two large renewable power investors in SSE and ScottishPower, this deal to market Scottish marine wind is to the benefit of Irish and French companies.
It's still hard to see where Scotland is getting the fullest possible benefit from these abundant resources. But the way the market works, it's for domestic companies to compete for that benefit.
SSE can take some credit for having the lead 40% stake in the Beatrice wind array, which is at a more advanced stage than NNG, with work under way in the outer Moray Firth. That involves 84 turbines, 558 megawatts of power and it's valued at £2.6bn.
In the more mature onshore wind market, it can then sell on at least some stakes in its portfolio of wind assets to institutional investors that like a steady flow of revenue. The proceeds can circulate back into the next phase of investment.
Another point: EDF, standing for Electricite de France, is 83% owned by the French government. It's the same company that owns and operates all of Britain's nuclear power stations and it is building the Hinckley Point nuclear station. It's a reminder, as if Britain and its rail network needed one, that state enterprise can be competitive, effective and international.
Another factor in these two giant wind arrays off the east coast of Scotland is the importance of the supply chain. In the absence of a large-scale turbine manufacturer, the best hope for manufacturing has been in fabricating the platforms on which the turbines sit.
Redundancy notices
BiFab has been busy building some of these for Beatrice, in a contract involving yards on the other side of the North Sea which turned messy late last year and nearly sank the Fife yards.
Having an empty order book, the only way it could survive was with a parent company taking over and securing the capital to keep it solvent. The Scottish government brokered a deal with DF Barnes, marine engineers in Newfoundland and Labrador, and ministers took a minority stake, of up to 38%, in the revived company.
That was three weeks ago, and a pointer to a sustainable future. But it wasn't a solution. It was a first step. And it came as a blow to unions three weeks later to find that redundancy notices have been served on more than 30 of the core shopfloor workforce at Methil and Burntisland.
They had expected the 45-strong core would be retained with maintenance work, while the business development team get on with winning contracts for NNG and other wind arrays being built off the east coast of England.
Everyone involved is emphasising that BiFab's future looks like quite a hard road. It needs orders in the short term, but before long, unions say it also needs investment in buildings and equipment if it is to compete with other yards around the North Sea, which can operate more efficiently and bid more competitively.
Will both Canadian and Scottish government shareholders be willing to put up that capital investment?
Cracks found
The wind power question that always gets asked by sceptics is how to keep the lights on when the wind drops.
Hunterston nuclear power station in Ayrshire, owned and run by EDF, is showing its age. Cracks were found this week, forcing the shutdown of a nuclear reactor.
Without the big coal-burning power stations at Longannet in Fife and Cockenzie in East Lothian, it is reassuring that a very expensive cable is being installed between Hunterston and Merseyside. Through that, abundant Scottish wind power can be exported. And when it can't, power can surge north from nuclear, coal and gas stations.
The renewables industry is keen, in this calculation, that tidal power should not be forgotten. It may be intermittent, but you can predict with unerring accuracy when the tide will rise and fall for many decades to come.
So a study published this week, as the renewable energy industry gathered in Glasgow, trumpeted the potential of harnessing the tide.
It claimed a weighty and cumulative £1.4bn for the UK by 2030, supporting as many as 4,000 jobs. It cited 22 tidal projects already under way in the UK, with much of the focus on the test seabed of the Pentland Firth.
Wave power
If wave power gets itself out of the technical and financial doldrums, the report suggested waves could have double that jobs impact by 2040, and have a swell £4bn impact.
All it would need to do is follow 10 years behind the trajectory of tidal power. Having fallen well short of high expectations for technical breakthroughs, that's quite a bold assumption for waves.
But the Offshore Renewable Energy (Ore) Catapult - a government-backed centre for research and innovation - accompanies its report with a familiar warning.
If the UK doesn't get its marine power act together, there is a "very real danger" that its current global lead in these technologies could be lost to other countries as they build momentum.
Clearly, It's a pitch for more government funds. But with the BiFab yards in Fife down to a workforce in single figures, and the supply chain for turbines dominated by foreign companies, Britain's history with building technology businesses to scale makes it a relatively easy case to make.