Call for 'zero tariff' Brexit Scotch whisky deal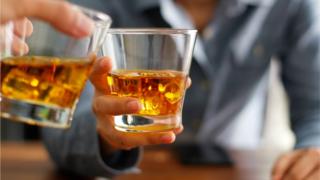 The Scottish whisky industry is calling for zero tariffs on exports of their product to Europe after Brexit.
Scotch Whisky Association (SWA) chief executive Karen Betts believes this is "the minimum" the UK government must deliver in negotiations.
Ms Betts will outline her views at a conference of SWA members in Edinburgh later.
Europe is considered a mature market for whisky, accounting for a third of Scotch exports each year.
Ms Betts will also call for the government to ensure deals with 24 other key international markets which ensure "as good or better" terms for the whisky industry.
Whisky is exported to 180 countries across the world, with annual sales worth £4.4bn.
'Intrepid internationalists'
In a draft of her speech released in advance, Ms Betts says: "We are proud of our industry's success and of our global reach, that we are intrepid internationalists and that Scotch travels so well."
She will stress that the industry's success must not "be taken for granted by government".
"We continue to call on government to ensure that, after Brexit, we can trade as easily with Europe as we did as an EU member," she will say.
"A third of Scotch whisky exports go to Europe, an established, mature market for Scotch.
"At a minimum, we want to see agreement on zero tariffs, a minimum of regulatory divergence and mutual recognition of geographical indications."
EU deals
She will also argue "proper attention" must be given to non-EU markets and the trade deals the UK can agree with other nations.
The industry believes 24 of the international markets currently covered by EU-wide deals - including South Korea and Colombia - are "very important" to the whisky sector.
"The loss of these agreements would directly, negatively impact Scotch whisky," Ms Betts will warn.
"We are urging the UK Government to swiftly put in place similar agreements with those 24 countries - on as good or better terms - to ensure Scotch can continue to be exported with a minimum of extra cost and complication."