Funding to tackle household fuel poverty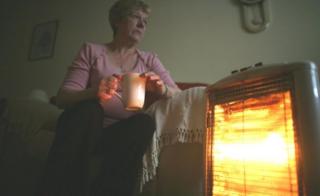 Government funding of more than £54m is to go towards tackling fuel poverty in Scotland, the first minister has said.
The money will be used to help meet a target to improve the energy efficiency of all homes by 2040.
The plan is set out in the Route Map to an Energy Efficient Scotland, launched by Nicola Sturgeon at the All Energy conference in Glasgow.
The funding will also support local authorities to expand existing energy efficiency and fuel poverty programmes.
Under the plans, all homes will be improved to achieve an Energy Performance Certificate (EPC) rating of at least band C by 2040.
An EPC gives a property an energy efficiency rating from A (most efficient) to G (least efficient).
Private rented properties will be required to meet band E by 2022 and band D by 2025.
Low incomes
Ms Sturgeon said: "The Scottish government's energy efficiency programme will help ensure all our buildings are warmer, greener and more energy efficient.
"The major investment in this programme highlights our clear commitment to ensuring that we tackle fuel poverty and reduce greenhouse gas emissions - helping those on low incomes as well as protecting our environment."
The plan was welcomed by housing organisations and charities but some called on ministers to ensure adequate funding is brought forward each year to deliver the changes.
Lori McElroy, of the Existing Home Alliance, said: "In particular, we welcome the strong action to ensure that tenants in the private rented sector will see their homes improved over the coming years and we welcome the expectation that most of Scotland's homes will get to an energy performance standard of C by 2030.
"To realise this ambition, the government must commit to bringing forward new multi-year funding across all sectors, including incentives, support and regulation for homeowners.
"This must be done well before 2040 to effectively tackle fuel poverty and climate emissions from our homes."
Fabrice Leveque, of Scottish Renewables, said the route map failed to capitalise on Scotland's emerging renewable heat industry.
He said: "It is vital that the Scottish government progresses its proposals to support district heat networks and demonstrates how the programme will support technologies like heat pumps, biomass and solar to ensure that the heat we generate is not only used in the most efficient way but is low carbon too."