Which? calls for a rethink over free ATM changes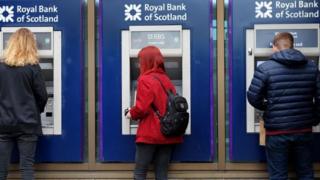 An "urgent review" of plans to cut the fees paid by banks to UK cash machine operators has been urged by consumer rights group Which?.
It warned the proposals to reduce the amount paid could lead to operators closing free-to-use machines.
Which? warned people, especially in rural areas, could be left isolated.
However, the UK's largest cash machine network, LINK, said it would only reduce fees when there was another cash machine within a kilometre.
LINK administers the interchange fee, which is paid by card issuers (banks and building societies) to ATM operators, who are often independent companies such as Cardtronics and Notemachine.
It argues that more than 80% of the UK's 54,000 free-to-use ATMs are within 300m of each other, making the system inefficient.
LINK has announced a reduction of fees from 25p to 20p per withdrawal over four years in order to stop the growth in ATM numbers, which has occurred despite declining consumer demand for using cash.
Critics fear the change could lead to fewer free ATMs as operators decide they are not worth the trouble.
LINK said that, as well as maintaining the current fee for ATMs one kilometre or more from the next free ATM, it also plans to increase the subsidy for machines in rural or less well-off areas.
But both the Federation of Small Businesses and Which? are calling on the Payment Systems Regulator to intervene.
Gareth Shaw from Which? said: "It's clear that free-to-use cashpoints play a vital role for the majority of Scottish people and that some, particularly in rural communities, face substantial challenges to accessing cash.
"We are calling on the financial regulator to conduct an urgent review to ensure that people aren't left isolated and can access the cash they need."
Survey results
A survey of 1,854 people in Scotland in April found almost one in 10 (8%) had used a fee-charging cash machine in the last month and of these a third (31%) did so because they could not find a free-to-use option.
In urban areas only 3% of respondents said the nearest free ATM was too far away to walk to, but in rural Scotland that figure jumped to 19%.
When asked about the potential impact of closures, one-fifth (22%) said they would be less likely to use local shops that required them to pay in cash.
One in seven (16%) said it would affect their ability to pay for products and services.
LINK said its plans were part of a move to re-balance the ATM network and that it was committed to protecting access to free machines.
It said it planned to triple the financial inclusion subsidy from 10p up to 30p for ATMs in areas with poor cash access.
A spokesman said: "We want to re-balance ATMs from a proliferation in city centres to spread them to rural and poorer areas."