'No town immune' as shop closures go on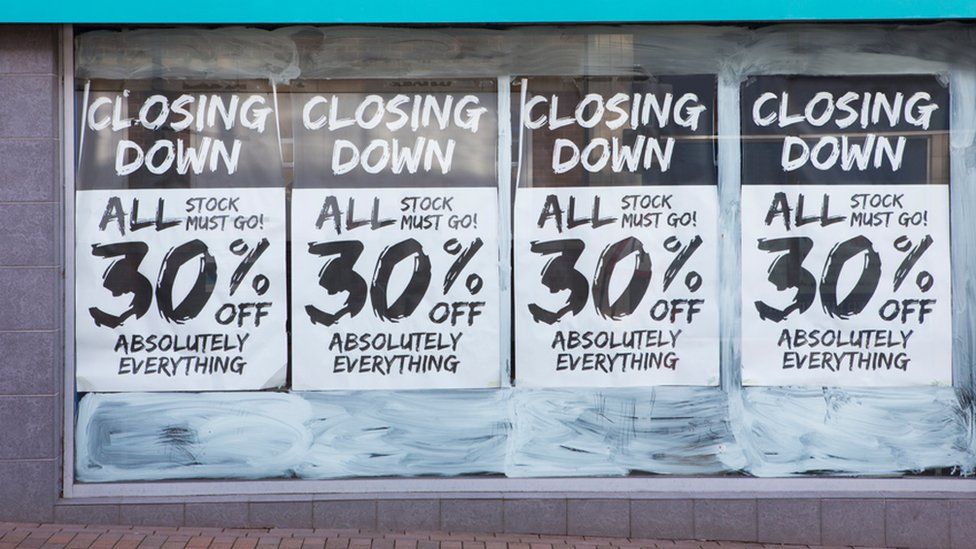 Scotland continued to lose shops faster than in any other part of Britain last year, a report has found.
A total of 290 high street stores shut up shop across Scotland in 2017 - a rate of more than five per week.
There were 142 openings, but the net loss of 148 was well up on the 112 recorded in 2016.
The net drop of almost 4.5% was the highest in Britain, which saw an average fall of just under 2.6%, according to the Local Data Company.
Scotland was also well above the British average figure in the previous year.
PwC, which commissioned the report, said no town had been "immune to the trend of high street loss".
Clothes shops led the closure list, followed by travel agents, banks and shoe shops.
Food outlets had the highest increases in net store numbers, led by Chinese takeaways and cafes and tearooms.
Glasgow had the highest overall number of stores lost, with 53 more shops closing than opening, followed by Edinburgh on 29 and Aberdeen on 16.
Lindsay Gardiner, regional chairman for PwC in Scotland, said: "2017 has proved to be one of the toughest trading periods Scottish retailers have experienced in years.
"And so far this year, there's been little sign of this pressure letting up with the 'Beast from the East' and ongoing cold snaps taking their toll alongside other adverse business factors."
Scottish Retail Consortium director David Lonsdale said the figures demonstrated "just how challenging and volatile times are just now for Scotland's retail industry".
He said: "Retailers are having to contend with profound changes in shopping habits, squeezed consumers and spiralling government-imposed costs.
"Responding positively to structural change requires substantial outlays on digital infrastructure, a higher-skilled workforce and revamped logistics capability.
"This is hugely challenging at a time when retailers are forking out more for public policy-induced costs such as higher business rates, the large firms' business rates surcharge and the apprenticeship levy."
Related Internet Links
The BBC is not responsible for the content of external sites.