Scottish Power retail profits hit as customer numbers fall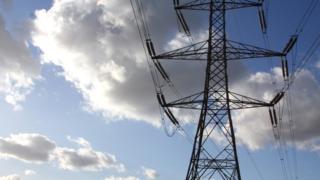 Scottish Power has reported losing about 200,000 customer accounts during last year, as it faced tougher competition.
The energy firm said customer numbers fell from 5.3 million to 5.1 million.
The reduction contributed to a 51% drop in earnings from its retail supply division, to £98m.
Electricity generation earnings fell by 36%, to £23m, following the closure of coal-burning plants, including Longannet in Fife.
However, earnings at its UK renewables division were up 44%, to £316m, as it plugged in new wind farms and output increased 32%.
Gas supply was down, due to tighter margins and warmer weather in 2017.
Investment plans
The company's Spanish owner, Iberdrola, announced investment plans that tilt its focus towards Brazil and the United States, with less emphasis on the UK.
Its chairman, Ignacio Galan, said the British energy market remained a core investment destination, "despite recent political and regulatory uncertainty".
He added: "Scottish Power will deliver around 6.1 billion euros of investment in green and smart infrastructure over the next five years.
"We will focus on increasing our renewable energy capacity, enhanced grid networks and smart technology for customers.
Keith Anderson, the UK subsidiary's chief corporate officer, said: "We now have more than 2 gigawatts of wind power capacity, and the £2.5bn East Anglia ONE offshore windfarm is well into construction.
"Over £600m was also invested in to our networks business last year, as we continue to deliver smart and efficient grids capable of supporting the UK's future energy needs."
Iberdrola announced net operating profit down 7% to 7.3 billion euros for 2017, mostly due to poor hydro production in Spain.
Its share price dropped 3% in early trading.