Scottish unemployment rises by 14,000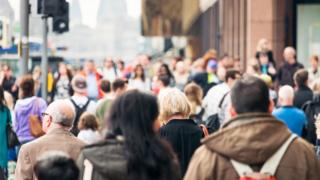 Scotland's jobless total rose by 14,000 in the final three months of last year to stand at 124,000, according to official data.
The increase took the unemployment rate from 4% to 4.5% - above the UK rate of 4.4%.
The number of adult Scots under 65 in work fell by 30,000, to 2,534,000.
The equivalent figure for the UK as a whole was up by 87,000, at just under 30.7 million, according to the Office for National Statistics.
Meanwhile, wages grew by an average of 2.5% - up from 2.4% the previous month - although the increase remained below inflation.
'Disappointing'
Scotland's Employability Minister Jamie Hepburn described the latest data as "disappointing", adding that the Scottish government "recognise the need for further investment in our economy and labour market".
He continued: "This is demonstrated by our budget investments of almost £2.4bn in enterprise and skills and the most attractive package of non-domestic rates reliefs available anywhere in the UK, including the small business bonus, worth £720m, and the UK's first nursery relief."
He added: "However, these latest figures show 68,000 more people in employment compared to the pre-recession peak, with 17,000 more people in work over the year, and it is encouraging we continue to outperform the UK on employment and unemployment rates for young people and women."
The UK government's Scottish Secretary David Mundell called the figures "worrying".
He added: "The Scottish Parliament has more powers than ever before to boost the economy and promote growth and it needs to use them.
"It is troubling that instead of focusing on improving Scotland's prosperity, the Scottish government is choosing to hike taxes for thousands of hard working Scots.
"It is a fundamental mistake to make Scotland the highest taxed part of the UK."
Scottish Labour's economy spokeswoman Jackie Baillie said the figures "once again lay bare the extent of SNP and Tory mismanagement of our economy and their lack of an industrial strategy".
She added: "In Scotland, unemployment is up, economic inactivity is up and employment is down.
"What's more, we also see wages have failed to keep pace with inflation, squeezing pay packets and making the situation worse for many families who are already struggling to get by."
'Fall-back'
Prof Graeme Roy, director of the Fraser of Allander economic institute, said the latest figures showed "somewhat of a fall-back in Scotland's labour market performance".
He said: "This weakening in the labour market is perhaps not that surprising given the relatively fragile performance of the Scottish economy in recent times.
"It will be interesting to see if today's figures are a blip or part of a shift in trend.
"That being said, today's employment and unemployment statistics need to be put in a longer-term context.
"Unemployment remains relatively low by historical standards and there are still 10,000 fewer people unemployed in Scotland than this time last year."