Wave energy 'more difficult' than thought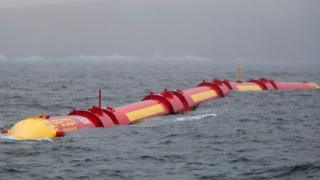 First Minister Nicola Sturgeon has said wave and tidal energy has taken "major steps forward" despite a £10m prize for innovation never being awarded.
The Saltire Prize was launched by Alex Salmond in 2008 to push marine energy towards commercial success.
A decade later, two major competitors have gone bust and none has managed to fulfil the prize's criteria.
The first minister said the path to commercialisation was longer and more difficult than initially anticipated.
The BBC revealed at the weekend that the deadline for wining the prize officially passed last summer.
What were the criteria?
The prize guidelines stated a team had to demonstrate a system that was:
in Scottish waters
a commercially viable wave or tidal stream energy technology
achieving the greatest volume of electrical output
over the set minimum hurdle of 100 GWh
over a continuous two-year period
using only the power of the sea.
Meet the challenge
As far back as late 2015, the Scottish government acknowledged the "likelihood that...it cannot be won".
That was after two of the frontrunners slid beneath the waves.
In 2014, wave power firm Pelamis went into administration, followed a year later Aquamarine Power.
One industry insider told BBC Scotland: "The wave technology wasn't reliable enough - it had too many moving parts and wasn't robust enough."
In response to a question from Orkney Lib Dem MSP Liam McArthur, Ms Sturgeon said she had asked officials to work with the Saltire Prize challenge committee to "reshape" the prize "so that it can continue to drive innovation and incentivise investment".
She said: "It is important to recognise, not withstanding the fact the prize has not been awarded, the marine energy industry has taken major steps forward since 2008."
Ms Sturgeon said: "The industry has faced a whole serious of challenges, technological, financial, environmental, the availability of grid connections and, in fact, the investment climate has not been helped by the UK government's decision to remove the ring-fenced subsidy from marine energy.
"These are the reasons why no competitor was able to meet the deadline of June 2017."
The first minister said an up-to-date analysis of the state of the industry was requested last year and would be published shortly.
Saltire Prize timeline:
April 2008 - Former first minister Alex Salmond announces the award
March 2013 - Five companies are in the competition
November 2014 - Competitor Pelamis calls in administrators
October 2015 - Competitor Aquamarine Power calls in administrators
November 2015 - Scottish government says the Saltire Prize challenge committee, which oversees the award, is "considering options for reshaping the prize"
April 2016 - Revised prize options, drawn up by trade body Scottish Renewables, are shared with the committee
January 2017 - Committee members ask for "up-to-date analysis" of the marine energy industry to inform their deliberations
April 2017 - Consultants appointed to produce a report on the current state of the industry.
September 2017 - Scottish government says it expects to share the report with the committee in early September 2017
February 2018 - Scottish government says that report will be published "shortly" before being put to the committee for consideration