CMA to expand in Scotland as Brexit approaches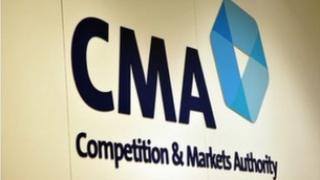 The Competition and Markets Authority (CMA) is set to boost its presence in Scotland, as it prepares for the UK's exit from the European Union.
The watchdog aims to increase its Edinburgh contingent from three to about 25-30 employees, "with ambitions to grow further".
Its workload is expected to grow as work previously led from Brussels comes to the UK.
The CMA's chief executive will outline the plans during a visit to Edinburgh.
In a statement, the regulator said the expansion would be "a big part" of the organisation's preparation for Brexit.
It added: "This is expected to increase its merger reviews and investigations into cartels and other anti-competitive behaviours as work previously led from Brussels comes to the UK.
"It will allow the CMA to build even stronger relationships with consumer and business groups, other regulators in Scotland as well as the Scottish government and parliament, and increase its capability to carry out UK-wide projects from Scotland."
The new roles will not focus exclusively on Scottish cases, although the CMA said it he had previously addressed a number of major Scottish competition and consumer issues.
In one case, the regulator fined Aberdeen-based Balmoral Tanks £130,000 for illegally exchanging price information.
The CMA has also recently investigated major mergers in Scotland, including the deal between North Sea oil companies Wood Group and Amec Foster Wheeler and the purchase by Standard Life of Aberdeen Asset Management.
CMA chief executive Andrea Coscelli said: "It is essential that the Competition and Markets Authority has a presence right across the United Kingdom, so we can make sure competition is working for people, businesses and the economy in every corner of the nation.
"Though we already have a great team in Scotland, by expanding our numbers we can go further to understand the concerns and issues affecting ordinary people."
Scotland's Economy Secretary Keith Brown said: "The CMA's expansion in Scotland is a clear sign of its commitment to taking action and making the market fair for consumers and businesses.
"It's a move I've championed and provides real opportunity to benefit Scotland's economy by identifying and tackling the problems faced here by our consumers and businesses."