CYBG warns of slower growth in home loans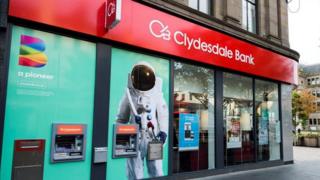 Shares in Clydesdale and Yorkshire Banking Group (CYBG) fell on Monday after it warned of slower growth in home loans amid rising competition.
The Glasgow-based bank - which has 2.8 million customers - demerged from National Australia Bank in 2016.
It said its mortgage book climbed by 7.4% in the last quarter of 2017, to £23.9bn.
However, it warned that the mortgage market remained highly competitive, which had hit its net interest margins.
It added growth in home loans would slow, although it continued to expect a "mid-single digit" percentage increase for the full-year.
Meanwhile, deposit balances were up year-on-year by 14.8%, at £28.7bn. The bank said the increase had been driven in part by "continued momentum" in retail and in small and medium-sized business current accounts.
At 11:00 on Tuesday, CYBG's share price was down by just over 2.8%, at 321.80.
'Solid quarter'
CYBG chief executive David Duffy said: "We have delivered another solid quarter of growth, despite a competitive operating environment, seeing continued momentum in both mortgage and SME lending.
"While the economic outlook remains uncertain we remain focused on delivering sustainable and prudent growth and are confident we will deliver our guidance for 2018 and the medium term."
The bank is targeting more than £100m of cost savings by 2019 - a drive which saw the group announce plans in January 2017 to shut about a third of its branch network during the year.