Book Raj: a diary from Jaipur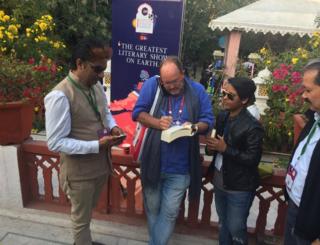 World pioneers of town planning and astronomy, a hill-top fort, a tourist magnet, a revived folk music tradition, and in the orbit of world cities, Delhi and London: Jaipur has a lot in common with Edinburgh.
Yes, for a few days, I'm some way off the usual boggy turf of seeing business and the economy from a Scottish perspective. Instead, I'm on drier terrain, in the capital of the Indian desert state of Rajasthan.
I'm here because Jaipur also has in common with Edinburgh a world class book festival. Eleven years of rapid growth in reputation in the grounds of the gently dilapidating Diggi Palace in Jaipur, it has far surpassed the Scottish one for scale.
In the early days, it looked to Charlotte Square and to Hay-on-Wye for its format. Scottish historical writer William Dalrymple is a co-founder and remains a co-director, with Indian writer Namrita Gokhale.
The Indian book festival now hypes itself as a combination of Woodstock, Glastonbury and a mighty Hindu pilgrimage. It can claim to be the world's biggest book festival, last year seeing more than 400,000 visitors over five days. When all the heads are counted, it's on track to be nearly 25% up on that this year.
Access to the site and to the speaker events is free, the costs met by a lot of corporate sponsorship led by Zee, the leading bundler of Indian TV entertainment channels.
Eclectic
As I write, on a terrace and shaded by foliage, I am watching a stellar line-up discussing film adaptations of books: Michael Ondaatje, Amy Tan, Tom Stoppard, Nicholas Shakespeare, and film director Mira Nair.
"No-one turns down an invitation," laughs Dalrymple. "I offer them elephants and say I'll put them up in a maharajah's palace, and they can't resist."
There is popular, classical and fusion music from an Indian background, singer David Gray as well as the Afro-Celt Sound System.
Philip Norman, biographer of the Beatles, was reflecting on their relationship with India, arguing that George Harrison latched on to the Mahesh Maharishi as his guru partly as a response to being an underdog within the band, and to differentiate himself from the more upwardly-mobile Lennon and McCartney.
Norman reckons the time spent in Rishikesh was essential to stop the frenzied working schedule and to take stock, probably delaying the break-up of the band. But he says John Lennon was already intent on getting out somehow.
Baroness Helena Kennedy was one of those making the case for assertion of women's rights. The Glaswegian has been advising the Indian Supreme Court about reform of how rape cases are treated, following very high profile policing and legal controversies.
Hamid Karzai, Afghan president from 2002 to 2014, was in conversation with William Dalrymple, reflecting on his upbringing and the failings of the US and Pakistan in handling Afghanistan after 2001.
He got to know Dalrymple after reading the Scot's book about Karzai's ancestor, who was installed by the British as ruler in Kabul and subsequently assassinated. A leaked message from the US Embassy to Washington raised concerns with Hillary Clinton, then America's top diplomat, that Karzai was being heavily influenced by Dalrymple's book towards taking a hard line against US policy.
Most of the festival programme is rooted in Indian culture, across 15 languages. Sessions range from women seeresses of ancient Vedic texts to Instagram poet Rupi Kaur, and Urdu poetry to Bollywood music.
And there was the bold claim from Pico Iyer, the philosopher and writer - of Indian parentage, English and Californian upbringing and Japanese residence - that Mumbai is now the centre of the world for writing in English.
Twenty-five years ago, he wrote an article in Time magazine entitled "The Empire Writes Back". With added Caribbean flavour in Jaipur last year, and West African this year, the message to the former colonial power remains strong.
Young dreamers
As with India as a whole, the festival is young - and a lot younger than the Edinburgh bookfest. Last year, more than 60% were aged under 25.
Many of the youth are enthusiastically engaged in the teenage pursuits of looking cool, immersion in social media, sizing up the talent, and taking selfies. So many selfies.
But crowding round the venues to hear erudite discussion of literary translation, constitutional politics, hearing favourite authors and celebrity politicians, and whooping with delight at the occasional Bollywood heartthrob, young India is also very engaged in ideas and quick to launch into debate.
How Indian?
One of the subjects that has long fascinated Indians is India. So this festival is a great opportunity to discuss the role of the state, of the citizen, of the constitution, of free speech, of elites and "the Common Man".
But one of the hottest topics, and particularly for young people, is the notion of "nationalism". A discussion called "Dreamers", about young Indians, was dominated by the word.
The test of identity, it seems, is "how Indian are you?", which can quickly reincarnate into the question "how Hindu are you?"
Participants have a shared assumption that secularism is no longer a guiding principle of India. The governing party, the BJP, plays riskily with rhetoric of caste grievance and Hindutva - a narrow definition of the faith - yet also thrives on Hindu dominance and building up the threat of Pakistan.
In a southern state, its Congress rivals - once the bastion of secular India led by Nehru, inspired by Gandhi - are trying to out-Hindu the BJP by playing on concerns about beef exports.
A young female undergraduate student attending the Jaipur bookfest, Gurmehar Kaur, has become a national figure for challenging this, having moved from a self-confessed burning hatred to peace campaigning, launching herself on the campaign trail through Facebook. She has written a book about it, between exams.
Another woman writer who has written about young India, Snighda Poonam, tells me the fertile soil for this Hindutva movement comes from disappointment. Following six Indians from different backgrounds for her new book, she notes they have huge ambitions in common.
But they also have a huge reality check as soon as they start tertiary education, she says, feeding an insecurity that competing with 600 million other young Indians in a global race for jobs, their ambitions will be dashed. It makes them vulnerable to populist politicians' easy answers.
Warrior queen
The current controversy in Indian culture is about a film called Padmaavat, a historic epic based on the life of a warrior queen from Rajasthan.
With some Bollywood licence, she has been treated with inappropriate disrespect, according to some hardline enforcers of Rajasthani dignity. Mobs have attacked cinemas, and threatened to bar entrance to them.
There is despair from many at this ultra-liberal event that India has grown a vast industry in groups dedicated largely to taking offence. One calls it "an oppressive culture of offence".
This has meant, among other things, a death threat to the member of the board of censors, who allowed the film a certificate for viewing. If he came to speak at the Jaipur Literature Festival, he was warned that he wouldn't return home. He stayed away.
So did the Chief Minister of Rajasthan. She banned screening of the film, in defiance of a Supreme Court judgement, for which she risked a hostile reception if, as planned, she turned up to inaugurate the creatives' event.
Indians were doing culture war long before it reached the United States.
Unevolved?
Another top controversy in recent days concerns the national minister responsible for technical institutes and colleges.
"Since man is seen on Earth he has always been a man," Satyapal Singh was quoted as saying, in the Indian Express. ""Nobody, including our ancestors, in written or oral, have said they saw an ape turning into a man."
Impeccable logic. So Charles Darwin and evolution should not be in the curriculum, he says.
He wants to convene an international Darwin summit, to highlight the evidence against evolution.
His ministerial boss let it be known that a period of silence on the subject would be welcome.
PG Tips
One of those arguing for a more tolerant Hinduism is prolific writer and a celebrity politician Shashi Tharoor. He recently published a book spelling out just how malign the British Raj was in wrecking and undermining India's previous achievements and economic strengths.
This week, however, the emphasis has been more positive about one Brit in particular, who was one of his first literary loves from the age of 11 - P.G. Wodehouse. More than 2,000 Indians packed into one of the venues to hear a high-level battle of wit and memory of the best lines from Jeeves and Wooster.
Tharoor says it's all escapism, and warns against over-analysis as social commentary. Dalrymple suggests Jeeves was - though unknown to Wodehouse - a very Indian character.
British humour can translate easily into India. "Yes Minister" was a huge TV hit in the 1980s, reflecting the same politician-civil servant relationship at the heart of New Delhi government.
And Helen Fielding has been on hand in Jaipur. Her Bridget Jones character, she reflects, has surprised her by being recognisable far beyond Britain.
She mused that an Indian backpacking adventure might work well for Bridget. Fielding smiled wryly as she recalled having herself indulged in her youth.
Any tips for dating, she was asked? Dating is a new and very uncertain terrain for Indian culture and all those teenagers in attendance.
Yes, said the author. "Don't text when you're drunk."
Puffins
Without the boss of India's movie licensing board, we had an event included at a late stage with English author Adam Nicolson, talking about seabirds. Jaipur is a long way from the sea, and a stranger to gannets and puffins.
But he explained the efforts in the Shiant Islands, off the Outer Hebrides, to poison rats and let birds nest there safely. The success of doing so last summer earned a round of applause from his audience of around 1000 Indians.
Some, admittedly, were booking their seats for the next event at the venue - a mother-and-daughter duo who are Indian blue blood and also Bollywood royalty.