Scottish business confidence 'among lowest in UK'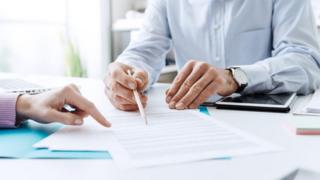 Business confidence in Scotland is among the lowest in the UK, according to a new survey.
The Bank of Scotland's Business In Britain report, which looks at expected sales, orders and profits over the next six months, found confidence in Scotland fell slightly to 17% in July.
Only Yorkshire and the Humber ranked lower, at 15%.
On Friday, a separate report suggested small business confidence in Scotland had dropped to near record lows.
The Bank of Scotland report found economic uncertainty was seen as the single greatest risk by Scottish firms, with 27% concerned - up from 22% six months ago.
The proportion of Scottish firms citing weaker UK demand as the greatest risk facing them rose to 18%, from 14% in the same period.
However, the net balance of firms looking to grow investment remained stable, at 2% - the same level as in July.
Meanwhile, the share of firms anticipating stronger exports remained positive, at 17%.
A total of 43% said they had difficulties hiring skilled labour, while the number of firms expecting to increase wages dropped by six points, to 15%, in the same period.
The proportion of Scottish firms confident about business prospects in the Brexit negotiations fell to 38%, from 49%.
Nearly half (46%) of Scottish respondents said no trade agreement with the EU would be negative for their business, with 14% believing it would be positive.
'Disappointing'
Bank of Scotland regional director Jane Clark-Hutchison said: "It's disappointing to see Scottish businesses towards the bottom of the confidence index but perhaps not unsurprising given the backdrop of economic uncertainty and concern over weak domestic demand.
"While confidence has dropped marginally from July, it's still broadly in line with the sentiment felt this time last year.
"Encouragingly, Scottish firms remain stoic with their investment and export plans.
"Ultimately, uncertainty is at the front of Scottish business' minds and we will need to see a shift to return to a position of growth."