Loganair warns of annual loss after Flybe split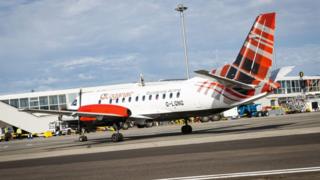 Scottish airline Loganair has warned it expects to make a loss over the current financial year, after being hit by costs linked to the end of its franchise agreement with Flybe.
It cited rebranding and start-up costs for new contracts as reasons for its forecast.
It also revealed it had taken financial steps "to safeguard our ongoing programme of investment".
The moves included an advance loan of £3m from shareholders.
Loganair stopped flying under the Flybe brand in September. It came after Flybe terminated its franchise agreement, citing "a failure to agree future operational standards and commercial arrangements".
Loganair said costs included a new reservations system and bookings website to support "own-brand activity", along with a customer contact centre at its Glasgow Airport headquarters.
The regional airline serves more than 40 routes across the UK, Republic of Ireland and Norway, including lifeline routes between the Scottish mainland and islands.
Profits down
Loganair's warning came as it reported that pre-tax profits fell by 11%, to £3m, for the year ended 31 March 2017.
There was an 8% increase in turnover to £103m, while passenger numbers increased by 8.6% to an all-time high of 765,091.
Punctuality increased over the period, with 80% of flights departing within 15 minutes of schedule.
Highlights of the year included a "new and enlarged" five-year contract with Royal Mail. Long-term charter contracts were also secured with major oil and gas operators using Loganair's hub at Sumburgh.
Managing director Jonathan Hinkles said Loganair had made "a successful transition from franchise partner to operating under our own brand".
He added: "We now have the freedom to implement new initiatives to make travel more convenient and affordable for our customers, and we have abolished credit card payment surcharges, introduced earlier opening of online check-in and removed ID checks at boarding gates.
"We have also re-launched a code-share agreement with British Airways, connecting our passengers to short and long-haul flights, and entered into an agreement with EasyJet, which allows our flights to be marketed on that company's website."
Meanwhile, the airline revealed it was "in the early stages" of a long-term plan to replace its fleet.
It wants to reduce the wide range of aircraft it currently uses, in order to simplify its engineering operations.
The company is also close to completing the remodelling of the interiors of its 12 Saab 340s, the 34-seater workhorse of the airline's fleet.