Scottish Fiscal Commission: Economy facing subdued growth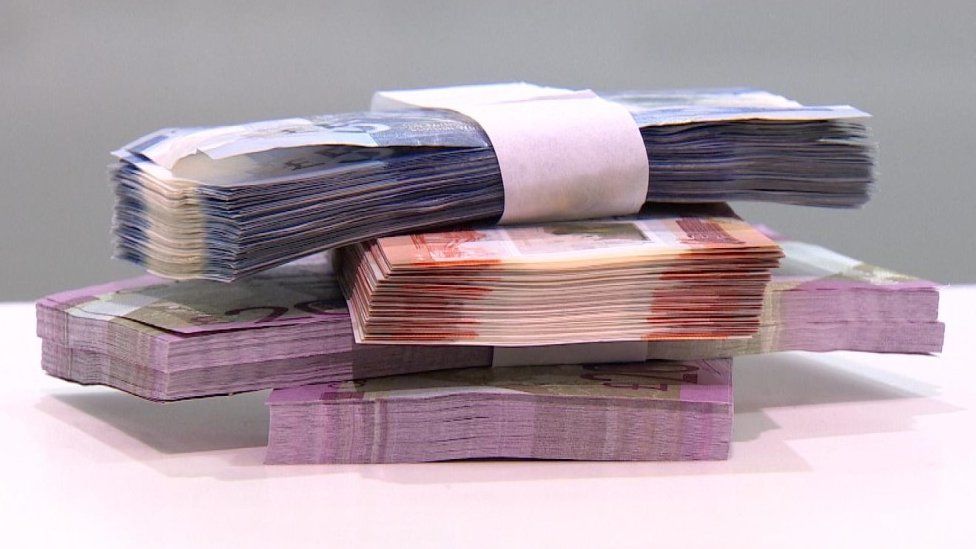 Scotland's economy is facing "subdued" growth over the next five years, according to the Scottish Fiscal Commission.
The independent body has predicted the Scottish economy will grow at less than 1% per year until 2022.
Its five-year forecast suggests GDP growth will be 0.7% in both 2017 and 2018, rising to 1.1% in 2022.
It said the outlook was "driven by slow productivity growth and exacerbated by demographic challenges".
In its report, the body estimated that the taxes now devolved to Scotland would raise almost £16bn in the next financial year.
However, it said the economic outlook impacted on forecasts of income tax revenue, with the prediction for 2018-19 being revised down from £12.3bn to £12.1bn.
Included in that figure is the Scottish government's new five-band income tax system, which the commission said would raise an additional £164m in 2018-19, rising to £199m by 2022-23.
The report said it expected that new relief for first-time buyers would reduce Land and Buildings Transaction Tax (LBTT) revenue by £6m in 2018-19.
It also estimated that policies on non-domestic rates announced in the draft budget would reduce tax revenues in 2018-19 by £96m.
What is the Scottish Fiscal Commission?
The commission was established on a non-statutory basis in June 2014 to scrutinise the Scottish government's devolved tax forecasts.
In April this year, it became a non-ministerial department, structurally and operationally independent of the Scottish government.
It is now responsible for producing independent forecasts for Scotland on issues such as tax revenues, expenditure on social security and onshore Gross Domestic Product (GDP).
It works closely with the UK's Office for Budget Responsibility, Revenue Scotland, the Scottish government, HMRC and other bodies.
Commissioners are accountable to and give evidence to the Scottish Parliament.
It is chaired by Susan Rice, whose previous roles have included chairwoman and chief executive of Lloyds TSB Scotland and senior vice-president at NatWest Bancorp in New York.
She has also been a member of the Scottish government's Council of Economic Advisers.
Current roles include chairwoman of Scottish Water and president of the Scottish Council of Development and Industry.
The commission said: "The growth that has been achieved in some recent years has been driven by factors which include a boom in the construction industry, strong labour market growth, a falling savings ratio and support from the oil and gas industry.
"These factors are unlikely to continue to support growth to the same extent in the coming years."
The report also said: "Future downside risks include the UK's changing relationship with the EU, a weakening outlook for global trade, Scotland's industrial and demographic structure and weak onshore demand linked to activity in the oil and gas industry.
"In combination, this means limited increases in average earnings and a more modest outlook for employment growth in the coming years compared to the recent past."
The Fraser of Allander economic institute said the commission's five-year growth forecast was "arguably the big story of the budget".
Director Prof Graeme Roy said: "The independent body predicts that growth in Scotland will remain below 1% to 2021, well below Scotland's average growth rate since the early 1960s.
"Despite this weak outlook for growth in the economy, the commission's forecasts for tax revenue growth are more optimistic, enabling Mr Mackay to offset a reduction in the resource block grant from Westminster through a targeted income rise focused on higher earners."
Professional services firm KPMG said the forecasts made for "extremely sobering reading".
Jenny Stewart, head of government and infrastructure for KPMG in Scotland, said: "The outlook forecasts economic growth in Scotland at 0.7% in 2018, only half the forecast UK rate of 1.4%.
"This rate is much lower than the long-term historic growth rate of 2% in Scotland and suggests a particularly difficult backdrop for businesses making future investment decisions."
Related Internet Links
The BBC is not responsible for the content of external sites.