RBS to close more than a third of branches in Scotland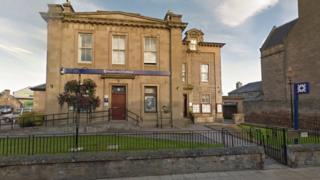 RBS has drawn up plans to close more than one in three of its Scottish branches.
A total of 62 branches will be shut, with the loss of about 158 jobs.
The union Unite, which represents many of those affected by the closure programme, said senior figures at the bank were "filling their boots while they devastate local communities".
RBS has said many more customers are accessing services online or via mobile devices.
Across the UK, the bank is closing 259 branches, including 197 operated under the NatWest brand.
It said it has seen a 40% drop in the use of branches since 2014 and mobile transactions have increased by 73% over the same period.
Redundancies in the UK-wide closure programme are expected to be 680.
The move comes after RBS announced the closure of 30 other Scottish branches earlier this year.
After the latest closures, there will be 89 branches left in Scotland, plus two cash and deposit stops for businesses, and a fleet of 20 mobile branches.
Unite regional officer Lyn Turner said: "RBS's 2016 annual report states that they want 'to transform the bank into the number one for customer service, trust and advocacy'.
"What we have in 2017 is a plan which amounts to institutional financial vandalism on a scale which has never been seen in this country ever before.
"Customer service? Trust? Don't make me laugh."
Advertising campaign
Mr Turner said the bank has been running an advertising campaign with the theme that it is not the Royal Bank of Scotland, but the Royal Bank for Scotland.
He added: "This is not the Royal Bank for Scotland.
"It's the Royal Bank for its top directors and executives filling their boots while they devastate local communities with bank closures and destroy hundreds of quality jobs."
An RBS spokeswoman said: "More and more of our customers are choosing to do their everyday banking online or on mobile.
"Since 2012 the number of customers using our branches in Scotland has fallen by 44%.
"Only 1% of our customers in Scotland now use a branch regularly while the number of regular mobile users has increased by 39% since 2015.
The spokeswoman added: "We expect these closures to result in around 158 redundancies. We realise this is difficult news for our colleagues and we are doing everything we can to support those affected.
"We will ensure compulsory redundancies are kept to an absolute minimum."
---
Analysis by Douglas Fraser, BBC Scotland business and economy editor
Bridge of Allan, near Stirling University, has a prosperous shopping street which saw the Clydesdale quit three years ago, TSB last June, and this week, both the Bank of Scotland and RBS included it in their list of closures.
However, today's announcement suggests the Royal is in the forefront of doing this. With 62 branches going in Scotland, that leaves only 89, less than half its main rival.
For those who depend on branches, it's obviously a blow. For small businesses, a presence in the community ought to make bank managers more understanding of business needs.
That's even though a savvy customer must know that lending decisions are made far from branches.
Branches have a reassuring presence for many customers. While there's a high street presence, it feels like there's something that physically stores your savings, and somewhere with solid foundations where you can go to access your current account.
---
Scottish government business minister Paul Wheelhouse said: "The news of further branch closures from RBS will be hugely concerning to many people in Scotland as it now not only affects, potentially, staff at RBS but also leaves large areas of Scotland, particularly rural areas, with limited branch coverage."
He added: "Along with my colleagues, I will be engaging with RBS to ensure that everything possible is being done to mitigate the impact of this decision on communities affected."
Unite Scotland deputy general secretary Mary Alexander commented: "RBS has forgotten about the many people in food bank Scotland who cannot afford to take the bus to their nearest banking facility or parents with small children who do not have access to a car.
"Nor do they care much about the elderly or those in poor health who cannot travel any distance to their nearest branch."
News of the RBS comes just days after an announcement that 11 Bank of Scotland branches will shut as part of a Lloyds Banking Group re-organisation.
The Federation of Small Businesses (FSB) said the bank closures would make it more difficult to run a business in Scotland.
Andy Willox, FSB's Scottish policy convenor, added: "While many small businesses use online banking, that doesn't mean they don't handle cash, and therefore need to visit a branch.
"Further, many of the branches under threat are in parts of the country with particularly poor mobile and broadband coverage - a fact to which RBS seems to be paying scant regard."