Oil and Gas UK welcomes Budget tax move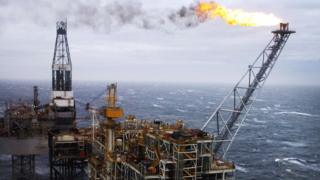 North Sea firms have welcomed UK government plans to introduce a new tax break for the sector.
Under plans unveiled in the budget, owners of mature producing fields will be able to pass on their tax history to buyers when they sell their assets.
Chancellor Philip Hammond said the move would encourage new entrants to bring fresh investment to the North Sea.
Trade body Oil and Gas UK said it would help extend the lives of mature fields and postpone decommissioning.
The industry had lobbied for the move in the hope of stimulating investment in older assets.
Oil and Gas UK chief executive Deirdre Michie said: "This is a vital step that can bring in new investment to increase recovery from existing fields and fund fresh investment which is key to generating activity for our hard-pressed supply chain."
Ms Michie added: "While there have been a number of deal announcements in the basin over the last year, these have mostly been for less mature assets, have been extremely complicated and taken a very long time to negotiate.
"This tax measure should help complete deals more quickly and in a more efficient way.
"We note the measure is intended to be effective by November 2018 and are committed to work closely with Treasury to ensure the change delivers the intended outcome."
Professional services firm EY said the move had the potential to make "a significant, positive impact on the industry."
EY's head of oil and gas tax, Derek Leith, said: "Today's announcement by the Chancellor represents an unprecedented change to UK oil and gas tax law and is a clear demonstration that the government wishes to maximise the value of the UK's remaining hydrocarbon reserves.
"New investment in the UKCS (UK Continental Shelf) is the lifeblood to preserving an industry which has made a huge contribution to the UK's economy over many decades, and supporting a supply chain focused on innovation and internationalisation."
'Positive move'
Energy consultancy Wood Mackenzie said the measure was "a positive move for the ultra-mature UKCS", by allowing new entrants to claim additional decommissioning tax relief.
Senior analyst Fiona Legate said: "The mechanics of transferring tax history are yet to be announced, but we expect the calculations will be complex.
"The UK is the first country to bring in such a measure and it's likely other countries with mature hydrocarbon plays will be watching this legislation and its success closely."
In a separate development, the UK's latest offshore licensing round attracted 96 applications from 68 companies, according to the Oil and Gas Authority (OGA).
The 30th round, which closed on Tuesday, included 239 blocks in the UKCS's main basins.
Nick Richardson, from the OGA, said: "Despite the difficult economic environment, industry has responded strongly to this round, confirming the high remaining potential of the UKCS.
"The focus on regions with existing infrastructure provided companies with an excellent opportunity to take a fresh look at a large inventory of opportunities from which to rebuild their portfolios to help sustain future production."