New whisky distillery opens in Glasgow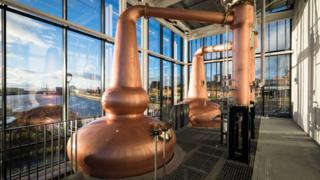 A new whisky distillery has officially opened on the banks of the River Clyde in Glasgow.
The Clydeside Distillery was built at a former pump house between the Riverside Museum and the SSE Hydro arena.
Owners Morrison Glasgow Distillers said the facility was now producing the first spirit in the local area for more than 100 years.
The multi-million pound development includes a visitor centre, cafe and gift shop.
Its two copper stills, each weighing about two tonnes, were crafted by Scottish coppersmiths Forsyths of Moray.
The development sits on the site once known as The Queen's Dock, which was built by the great grandfather of Clydeside Distillery chairman Tim Morrison in 1877.
Mr Morrison said it was "an exciting day" for Glasgow and the Scotch whisky industry.
He said: "After more than a century copper stills are producing spirit on the banks of the Clyde and we're incredibly proud to be able to open our doors to the public.
"Glasgow has an affinity with Scotch whisky unlike any other city in the world with The Queen's Dock previously witnessing the exports of whisky, with ships sailing past the Pump House destined for all continents of the world.
"Of course for me and my family there is a very personal link knowing that my great grandfather built The Queen's Dock where The Clydeside Distillery now sits.
"We're looking forward to the future and seeing whisky produced in the heart of Glasgow once again."