Rescue deal reached on BiFab talks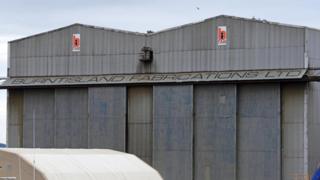 An agreement has been reached to prevent engineering business BiFab going into administration, the Scottish government has said.
Talks have been held in Edinburgh between ministers and Dutch-based Seaway Heavy Lifting following a dispute with BiFab.
An agreement will see BiFab receiving payments to alleviate the firm's "immediate cash flow issues".
The company employs 1,400 people at yards in Fife and Lewis.
BiFab warned last weekend that it was in danger of going into administration.
The deal means that work will continue on its current contract for the Beatrice Offshore Windfarm.
A financial package has been provided by Seaway Heavy Lifting, SSE and windfarm partners JCE Offshore, ministers said.
The Scottish government has also indicated it would loan money to BiFab if required.
First Minister Nicola Sturgeon said: "I am pleased that after an extensive series of talks over the last week and two days of intense negotiations we have been able to broker a commercial agreement that lifts the threat of administration from BiFab and allows work on the current contract to continue.
"In particular I welcome the moves made by Seaway Heavy Lifting, SSE and the partners in the Beatrice Project, JCE Offshore and Siemens to resolve this situation and enable BiFab to continue its work on this contract."
Ms Sturgeon said all companies involved in the negotiations had taken "difficult decisions" to secure the outcome.
She added: "While this deal lifts the immediate threat of administration, we recognise that there is a lot of work still to do to secure the long term position.
"Ministers will continue to work with BiFab, the trade unions and industry partners to identify ways to secure the long term future of renewables manufacturing on these sites."
'Dignity and determination'
Representatives of the workforce at BiFab's two yards - at Arnish on Lewis and Burntisland in Fife - this week held a demonstration outside the Scottish parliament.
Many of the employees had agreed to work without pay at the yards in the hope of allowing a rescue deal to be put in place.
Union leaders from Unite and GMB have praised the Scottish government for its role in brokering the deal.
In a joint statement, Unite's Pat Rafferty and GMB's Gary Smith said: "Make no mistake these yards would be closed today if it wasn't for the dignity and determination of the workers and their families in Fife and Lewis to save their jobs and industry.
"With their futures on a knife edge they worked for nothing, stayed strong and resolute and by staying united they have won their future.
"Further, the Scottish government said they would leave no stone unturned and their efforts have been pivotal in bringing BiFab back from the brink."
'Positive solution'
Seaway Heavy Lifting said it welcomed the agreement.
Chief executive officer Jan Willem van der Graaf added: "We have worked very hard along with the other stakeholders to find constructive solutions to support BiFab.
"We appreciate the role that the Scottish government has played in reaching a positive solution for all.
"Seaway Heavy Lifting will continue to always treat its suppliers fairly, with respect and integrity and we look forward to BiFab successfully completing the remainder of the Beatrice jacket fabrication."