Burntisland Fabricators: Staff agree to 'work-in' to continue contract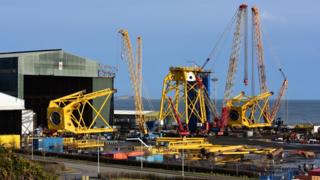 Staff at Burntisland Fabrication, or BiFab, have agreed to continue working on their current order even though they might not be paid, union leaders said.
Emergency talks have been taking place at the engineering company after it warned it was on the verge of appointing administrators.
BiFab has a workforce of about 1,400 people at yards in Fife and Lewis.
Unions said staff had agreed to a "work-in" to ensure the contract they are working on remained at their yards.
Bifab said it was "actively in discussion" to consider options to allow it to continue trading.
The company has yards in Burntisland, Methill and at Arnish on Lewis and said its workforce comprised of 251 permanent staff and 1,132 agency workers.
It builds large-scale equipment for the offshore oil and gas industry, as well as platforms for offshore wind turbines and tidal generators.
A year ago BiFab secured a £100m contract for the manufacture of 26 offshore wind turbine jackets from the Dutch contractor Seaway Heavy Lifting (SHL), part of the £2.6bn Beatrice Offshore Windfarm Ltd (Bowl) project in the Outer Moray Firth led by energy giant SSE.
'Mood is uncertainty'
Speaking after meetings at the Methill and Burntisland yards on Monday morning, Alan Ritchie from the GMB union told BBC Scotland: "The workers have decided to continue a work-in. They will be maintaining the gates to make sure the contract, which is 77% complete, will not be taken out of any of these yards.
"The gates will be maintained by the shop stewards and nothing will come in and nothing will go out without their permission."
Bob McGregor from the Unite union said: "The mood is uncertainty. Folk are worried for their jobs but they are willing to fight for their jobs and work without the guarantee of income to maintain their jobs and the yard."
A statement from BiFab said it was "currently facing a critical cash position as a result of a challenging situation regarding its ongoing contracts".
The company said its directors remained "hopeful that a solution can be reached to secure the future of the business and the workforce".
Managing director Martin Adam added: "We are very disappointed that we have found ourselves in the current position which has arisen as a result of a challenging situation in respect of our ongoing contracts which have been providing much-needed employment locally in Scotland.
"We are seeking a rapid solution with our key stakeholders and the Scottish Executive to our current cash flow position and are hopeful that this can be achieved quickly to secure the future of the business and the 1,400-strong workforce."
The GMB union has 440 members across the three yards.
'No stone unturned'
Speaking earlier on the BBC's Good Morning Scotland radio programme, the GMB's Scotland secretary Gary Smith said: "Every political interest in Scotland has told us that renewables are the jobs of the future and if they do not do something to secure the future of these yards then it will be a hammer-blow to their credibility.
"I want people to be pulling together to look after the interests of those yards and our members."
Pat Rafferty, leader of the Unite union in Scotland, said: "Let's not mince words here, the Scottish government cannot stand by and watch BiFab being turned into an industrial graveyard.
"Make no mistake, Unite and its sister unions will not let that happen."
The Scottish government said it would do all that it could to help.
First Minister Nicola Sturgeon told BBC Scotland: "BiFab is operational in a sector of our economy that is hugely positive and going from strength to strength, in terms of renewables.
"Without pre-empting the discussions that will be required in the days and weeks to come, that should give us optimism that a company like BiFab can succeed.
"The Scottish government will be very closely involved in this. We will leave no stone unturned to try to work with others to secure the future of this company."
Seaway Heavy Lifting (SHL), the Dutch firm who awarded the contract last year for the fabrication of jackets for wind turbines, said it had been working for "many months" to support BiFab "as they address their production problems and cost overruns".
A spokesman added: "We have continued to pay the company on time and in line with our contract.
"We expect the shareholders of BiFab to stand behind the performance of the company. SHL has always been keen to support BiFab's workforce but we need BiFab's shareholders to provide it with the financial stability it requires.
"We remain committed to working with all stakeholders to find a solution that delivers the Beatrice Project to Bowl on schedule."
Analysis by Douglas Fraser
BBC Scotland business and economy editor
BiFab has been a success story and one of the best hopes in Scotland for creating jobs linked to the second wind for oil, gas and offshore renewable energy.
Set up in 2001 by the late John Robertson, it put new life into the activities of the 1970s and 1980s, when fabrication of giant North Sea platforms kept construction yards busy.
From Burntisland, it expanded to the massive Methil yard and took on the Arnish yard on Lewis, both of which have seen boom and bust. The industry's order books remain cyclical, but by merging offshore oil and gas with renewables, it seemed a good approach to help even out the workflow.
The boom years earlier this decade for west of Shetland oil and gas fields saw Methil kept busy. With those projects coming to an end, BiFab could look to the platforms required for offshore wind arrays in the Moray Firth and off the Fife coast.
The latter, called Neart na Gaoithe, was given the green light by a Supreme Court judgement in the past week, ruling against a challenge on wildlife grounds.
However, the 22,000-tonne, £100m deal to build 26 of the 84 jackets for the Beatrice project in the Moray Firth, for final delivery by next April, appears to be the source of the financial difficulties.
BiFab is sub-contracted to Seaway Heavy Lifting, which in turn is building the project for a consortium led by Perth-based energy firm SSE, with quarter of its funding from China.