Transport tycoons Ann Gloag and Sir Brian Souter in business split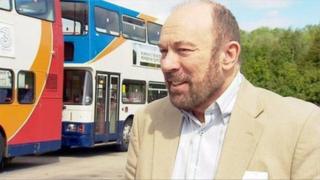 Scotland's best-known business siblings have gone their separate ways to invest their fortunes.
Ann Gloag and Sir Brian Souter split the wealth they were managing together "to follow very different investment strategies".
The announcement was made in the annual accounts of Souter Investments Group, which handles Sir Brian's assets.
The document disclosed that Sir Brian's company had a pre-tax loss of £33m in the year to March 2017.
That left the company with assets worth £367m. About two-fifths of that is in shares in Stagecoach, the Perth-based transport firm founded by the siblings.
Sir Brian owns 15% of the company, worth £182m in March. But as that stake's value dropped over the accounting year by £37m, it explains why his total portfolio took such a knock.
The previous year saw it fall by £84m.
Stagecoach has found it tough going due to a slowdown in the growth of public transport in the UK and US. Low oil prices have meant travellers, particularly in the US, have more often opted for cars.
Ann Gloag and Sir Brian jointly owned Highland Global Transport Ltd, a holding company with £613m in assets in March 2015.
The agreement to split that wealth came a year ago, when Highland Global was wound up, and its business transferred to Souter Investments and Gloag Investments Group.
Souter Investments also owns half of Alexander Dennis, the Falkirk bus-building firm. It has controlling stakes in several bus operators in New Zealand, Poland and Estonia. With 11 people on the payroll, it invests in other unlisted companies.