Aberdeen International Airport traffic continues to rise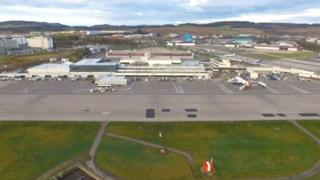 Passenger numbers at Aberdeen Airport have increased for the fifth month in a row, despite a further fall in helicopter traffic.
Nearly 285,000 people used the airport in September, a year-on-year increase of 3.9%.
The airport attributed the rise in part to its "strengthening" network of international leisure destinations.
It also cited a continuing improvement on its domestic and international business routes.
Domestic fixed-wing traffic was up by 7.2% and international traffic by 3.3%.
However, helicopter traffic was down by 8.2% on last year, with just over 32,100 passengers.
'Encouraging increase'
Airport managing director Carol Benzie said: "In September we saw the return of the SPE (Society of Petroleum Engineers) Offshore Europe conference which strengthened numbers through our terminal.
"This, along with the continued strong performances of our domestic and international leisure routes, is reflected by the encouraging increase in fixed-wing passenger numbers that we have seen in September."
Earlier this month, Aberdeen's new extension building was officially opened by the Duchess of Rothesay.
It followed the completion of the first phase of a three-year terminal transformation project, which included new domestic baggage reclaim facilities.
Meanwhile, both Edinburgh and Glasgow airports reported their busiest September on record, following a surge in international passenger numbers.
A total of almost 1.3 million people used Edinburgh last month - up 8.4% on the same month last year.
International traffic was up by 14.1% over the period.
'Global appeal'
Airport chief executive Gordon Dewar said: "The fact that international passengers are driving continued growth is an indication of the global appeal that Edinburgh and Scotland has - people want to say they've been here and experienced our culture, our history and all the other fantastic things we have to offer.
"And our domestic numbers remain strong, which highlights the healthy passenger mix that we have at Edinburgh Airport."
Glasgow Airport said nearly 973,000 passengers travelled through its doors last month - a 4.1% increase on last year's numbers.
EU scheduled services increased by 15%, following strong demand on a number of routes including Milan, Brussels, Valencia and Lisbon.
Long-haul routes were up 10% and international traffic grew by 10.2%, with transatlantic routes to New York, Toronto and Vancouver reporting strong demand.
Glasgow Airport managing director Amanda McMillan said: "We remain on course to record our most successful year ever and this can be attributed to our continued focus on not only attracting new services such as Frankfurt, but by also working closely with our current airline partners to enhance existing routes."