Liberty House buys Livingston firm Shand Cycles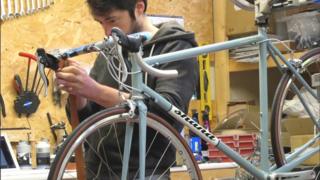 Industrial and metals group Liberty House has stepped up a gear in its bid to "rejuvenate" bicycle manufacturing in the UK by acquiring West Lothian firm Shand Cycles.
Livingston-based Shand, which has been making hand-built custom and production bikes since 2003, was bought for an undisclosed sum.
The deal marks Liberty's second major acquisition in the sector.
Last year it bought Midlands-based mountain bike producer Trillion.
Liberty is owned by Indian tycoon Sanjeev Gupta, who began his working life selling bicycles on behalf of his father's manufacturing firm.
In a statement, Liberty said it intended to expand Shand's manufacturing capacity at Livingston, and help Shand and Trillion grow by "developing innovative products".
Both firms will retain their brand identities within a newly-created Liberty Cycles division.
Shand Cycles founder Steven Shand, who will continue to lead the company, said: "This is an exciting new phase in the development of the business.
"Together as part of the Liberty Group I believe Trillion and ourselves can do some ground-breaking things in the cycle market.
"The link-up also allows us to develop some very valuable extra manufacturing capacity."
'Solid base'
Mr Gupta said: "Liberty is developing a solid base upon which to build a significant bike manufacturing business, offering high quality and attractive machines to all parts of the market.
"We're also pleased to expand further our investment in the Scottish economy where we already have major energy generation and metal manufacturing operations.
"Job numbers are small at present but we're investing for growth and there will be many more, further down the line."