Ryanair cancels Scottish flights to London Stansted over the winter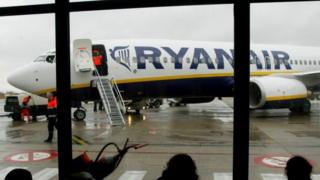 Ryanair has announced that it is cancelling its flights from Edinburgh and Glasgow to London Stansted over the winter.
The move will mean the airline grounding 18 Stansted flights per week from Glasgow and 26 per week from Edinburgh between November and March.
They are among more than 30 routes which are being halted by Ryanair.
They include Glasgow to Las Palmas, as well as Edinburgh routes to Hamburg and the Polish city of Szczecin.
The move to cancel flights came after the company admitted "messing up" pilot holiday rosters.
The airline plans to cancel a total of 18,000 flights over the winter season, affecting the travel plans of about 400,000 passengers.
It will fly 25 fewer planes to cut the risk of further flight cancellations.
Earlier this month the Irish airline cancelled up to 50 flights a day through to the end of October.
A spokesman for Glasgow Airport said the suspension of Ryanair's winter routes to Stansted and Las Palmas was "clearly disappointing", but it added that the airport expected the services to resume in March.
He said: "London remains our best-served destination and passengers can choose from a total of 30 daily flights to Stansted, Heathrow, London City, Gatwick and Luton airports.
"In addition, Flybe will launch a new London Southend Airport service on Sunday, 29 October, which will operate eight flights each week. This will take the total number of services operated between Glasgow Airport and London to 32 per day.
"The Las Palmas route is also served by three other airline partners."
Ryanair has said that those passengers affected by the suspension of routes will be offered alternative flights or full refunds.
Ryanair boss Michael O'Leary said in a statement: "We sincerely apologise to those customers who have been affected by last week's flight cancellations, or these sensible schedule changes announced today.
"From today, there will be no more rostering-related flight cancellations this winter or in summer 2018."
'Huge inconvenience'
However, travellers have reacted with anger and disappointment at the decision to cancel winter routes.
Sophie Lockley, from New Forest, said she was due to fly to Glasgow from Stansted at the end of October.
"It's a huge inconvenience really as my best friend lives in Scotland and we were meeting in London and then flying up to Glasgow to spend some time with her family," she said.
"She has a brain tumour and doesn't do well with stress, so this is the last thing she needs."
Ms Lockley said she had managed to rebook her flights with one of Ryanair's competitors, but had incurred an extra cost in the process.