Havelock Europa chief resigns as firm's losses widen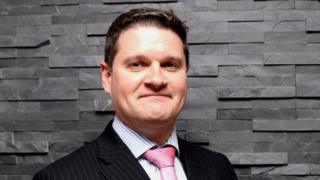 The chief executive of troubled interior fitter Havelock Europa has resigned with immediate effect.
The announcement that David Ritchie had stepped down came as the Fife-based firm posted widening first-half losses.
Mr Ritchie has been replaced by Shaun Ormrod, former boss of the firm behind the Farnborough International Airshow.
For the six months to 30 June, Havelock reported a pre-tax loss of £2.6m - up from £868,000 for the same period last year.
Revenue was 9% lower at £23.2m, which the Kirkcaldy-based firm attributed largely to a "weak" order book for the public sector at the start of the year.
Mr Ritchie is the third major boardroom departure this year, following the resignations of chairman David MacLellan in January and chief financial officer Ciaran Kennedy in April.
In its first-half accounts, Havelock said a strong performance in the retail and lifestyle sector was more than offset by "lower activity" in public sector and corporate services.
It now anticipates that full-year results will be "considerably lower than originally expected", although it expects to trade profitably in the second half.
Retail clients have included big high street names such as Marks & Spencer, Primark, Accessorize and House of Fraser.
Havelock said international retail continued to be "a significant element" of its business, accounting for more than 20% of revenue during the first half.
It added that revenues were driven in part by growth in demand from existing and new customers in Australia.
Chairman Ian Godden said: "Havelock has experienced a difficult first half, with market uncertainty among both public and private sector clients resulting in reduced or delayed activity.
"I believe, however, that our new leadership team, combined with our developing commercial strategy, will set a strong foundation for the future.''
The interior fitter has been through a difficult corporate turnaround in recent years.
It has been trying to diversify its clients away from a few large banks and education refurbishments, while seeking to secure more clients from the health sector and student accommodation.
It is currently conducting a major review of its operations, the outcome of which is expected to be announced on 31 October.