Profit rise for house builder Cruden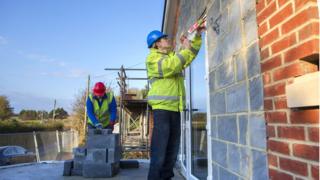 Scottish house builder Cruden has seen its pre-tax profits jump by a third in a year to more than £10m.
The company also doubled the number of homes it sold and saw growth in the value of its public sector contracts.
Revenue grew to £200m in the year to March, from £154m. Pre-tax profits rose from £7.5m to £10.4m.
The number of homes sold by the company rose from 139 to 280. However, the average price fell to £226,000, with prices ranging from £99,000 to £1.3m.
Among the firm's most prestigious developments was The Grange, in south Edinburgh, featuring 24 luxury three-storey townhouses and 57 executive apartments.
The company's construction division has been appointed as preferred bidder to build more than 700 homes over the next three years.
The developments include the construction of 237 units for River Clyde development, four projects for South Lanarkshire Council and a further 10 for Berwickshire and Eildon Housing Associations.