Scottish Power says UK will need to boost capacity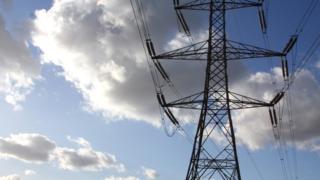 Britain will need to boost its generation of electricity by about a quarter, Scottish Power has estimated.
The energy firm said electric cars and a shift to electric heating could send demand for power soaring.
Its chief executive also said there would have to be a major investment in the wiring necessary to handle rapid charging of car batteries.
Keith Anderson was speaking as the firm reached the milestone of 2,000 megawatts of wind power capacity.
That equates to about an eighth of the British total.
The figure includes Whitelee wind farm, on Eaglesham Moor, south of Glasgow, which has more than 200 turbines.
Believed to be Europe's biggest wind farm, it is capable of generating enough power for all of Glasgow's homes.
In the past 18 months, the Spanish-owned company has been installing nearly a quarter of the British total, but the pipeline of work is coming to an end. Attention is turning to offshore wind.
But Mr Anderson told BBC Scotland there would have to be a renewed surge in the building of onshore wind turbines if consumer demand was to be met.
He warned that past experience with technology change had shown consumers could make the move faster than governments or companies expect.
Once the price of electric cars falls to that of petrol or diesel, which it is thought will happen between 2022 and 2025, there could be a rapid shift in buying patterns and electricity usage.
Earlier this month, First Minister Nicola Sturgeon announced a target of shifting from petrol and diesel-fuelled cars to battery power by 2032, while the UK government intends to make that shift by 2040.
'Worst position'
Mr Anderson said: "The worst position for this country to be in and the worst position for customers is that we get huge enthusiasm, people rushing out to buy electric cars because the price has come down, and then we can't allow people to plug them in because we haven't invested in the infrastructure.
"So one of the things we're looking at now is how we plan what has to happen to the distribution system."
The estimate of a 20%-30% increase in demand for electricity comes after years of gradually declining power use, much of that due to growing energy efficiency and the closure of older, energy-intensive industries.
At the same time, old power stations - including Scottish Power's coal-burning plants at Longannet in Fife and Cockenzie in East Lothian - have been closed down.
The added challenge of cars is the change in technology from an eight-hour overnight charge to a rapid charge of 15 to 20 minutes.
If several car owners on a residential street plug those in at the same time, the system could not cope.
Mr Anderson said: "The system that takes the wires into the house, down the street, to local businesses - how do we make sure it can cope with that level of demand? It'll take a long time to plan and deliver."
'Let's keep going'
Heating is the next frontier in the energy revolution, which has barely begun. In place of gas and oil-fired boilers in each home, electric central heating can be powered by renewable generation.
However, it is likely to require not only removal of a boiler, but the replacement of radiators and hot water heating pipes throughout a home.
Mr Anderson said: "What we're saying to the politicians, regulators and customers is: let's keep going - this [wind power] has been a huge success.
"We have been able to develop these projects faster and faster, and to deliver them more efficiently, at much lower cost.
"Keep going, because that will bring costs down and make us more efficient for the future.
"If you stop now, the technology development stops, the innovation stops: the new jobs, the new roles, they all stop. You stop that for two or three years, and trying to restart it becomes more difficult and more expensive."
Most of the recent onshore wind developments have been in Scotland, focused on the south west.
The UK government has allowed much less onshore wind developing, in response to anti-turbine campaigners.
It has also left onshore wind out of the auctions which offer generators a minimum price for their energy.
These auctions have helped drive down the cost of renewable power, with offshore wind nearly halving in price.