Cashmere firm Johnstons of Elgin predicts lower profit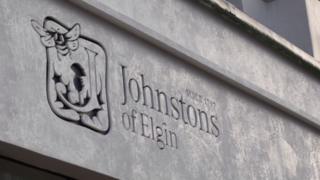 Scottish cashmere clothing brand Johnstons of Elgin has warned this year's profit will fall despite a rise in exports in 2016.
Overseas sales of clothes, accessories and interior décor were helped by the lower value of the pound.
Sales were boosted in France, Japan and the Middle East and by growth in revenue from the London shop and online.
However, the boost was accompanied by a rise in costs of imported materials.
Johnstons said this was eased by stock-holding materials.
The Morayshire company's accounts showed total sales rose from £66.7m in 2015 to £68.8m during the past year.
Exports rose from £18.8m to £21.7m, while UK sales fell.
Pre-tax profits fell from £7.8m to £6.2m.
Johnstons has manufacturing plants in Elgin and Hawick and employs nearly 1,000 people. It runs shops across the UK, including a flagship store in New Bond Street, London, which opened in December 2015.
The accounts, published through Companies House, said: "...stock levels in some of our larger customers are slightly higher than normal at the end of 2016, and some fashion styles are coming to the end of their life-cycle, so we expect turnover and profitability to be lower in 2017".