Renewable energy projects win clean power auction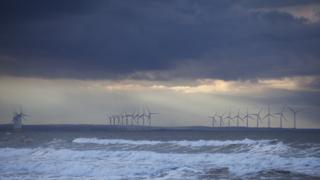 Two Scottish renewable energy projects have been awarded 15-year contracts after a UK government auction.
The Moray East Offshore wind farm is planned for the Moray Firth and a biomass heat and power plant will be built in Grangemouth.
Contracts are awarded after an auction for subsidies in which the lowest bidder wins.
Scottish Renewables said the wind farm bid showed there had been a "dramatic" drop in the cost of the technology.
The joint project by EDP Renovaveis and the Engie consortium is scheduled to start generating power in 2022/23.
The contract was awarded by the Department for Business, Energy and Industrial Strategy.
Scottish Renewables' deputy chief executive, Jenny Hogan, said: "The results of this latest auction are good news for Scotland, for our environment and for our energy system.
"The cost reductions seen in offshore wind in particular have been dramatic and are testament to the determination of developers to drive down costs.
"The scale of innovation taking place across the sector and its growing supply chain show the importance of ensuring a viable, competitive route to market is available for clean power technologies."
Ms Hogan said the biomass plant, to be built by Grangemouth Renewable Energy Limited, had also shown a "significant cost reduction". It will be delivered in 2021/22.
It is estimated that the two projects will together generate enough electricity to power the equivalent of 1,136,100 homes.
Nuclear subsidies
UK government figures show the cost of subsidies for new offshore wind farms has halved since the last 2015 auction for clean energy projects.
Scottish Renewables said energy from offshore wind in the UK was due to be cheaper than electricity from new nuclear power for the first time.
Two firms said they were willing to build offshore wind farms for a subsidy of £57.50 per megawatt hour for 2022/23 in the latest auctions
This compares with the new Hinkley Point C nuclear plant securing subsidies of £92.50 per megawatt hour.
Ms Hogan added: "We hope to see all renewable technologies getting the chance to bid in future auction rounds and to demonstrate just how cheap they can be.
"The government must now set out in its Clean Growth Plan a clear plan for cutting emissions further from the UK's energy system, and provide certainty to investors over the timing for further auctions rounds for all technologies."